5 Ways to Keep Teams Aligned as a Product Manager
Why building a shared understanding is critical for building successful products
One way to guarantee that your product will fail is to create a culture where nobody knows what they're supposed to be building and why.
Engineers build whatever they want, designers have no idea who their user is and the PM is busy creating powerpoint decks to share with stakeholders. Misalignment, or a total absence of alignment can be rather problematic when you're trying to create a valuable product that people want to use.
And yes, alignment is a bit of a buzzwordy corporate phrase, but it's an essential part of the product development process. Whilst some may say that the product manager's role within a product team is to set the vision, they also need to be the 'glue' that holds the team together.
To do this, PMs need to be strong at creating an environment where team members feel aligned on critical aspects of building a product. This can include, but isn't limited to, ensuring team members can answer questions like:
What are we building?
Who are we building it for?
Why are we building it?
What's the scope of the first iteration?
Who do I speak to to get answers to my questions?
Alignment vs. autonomy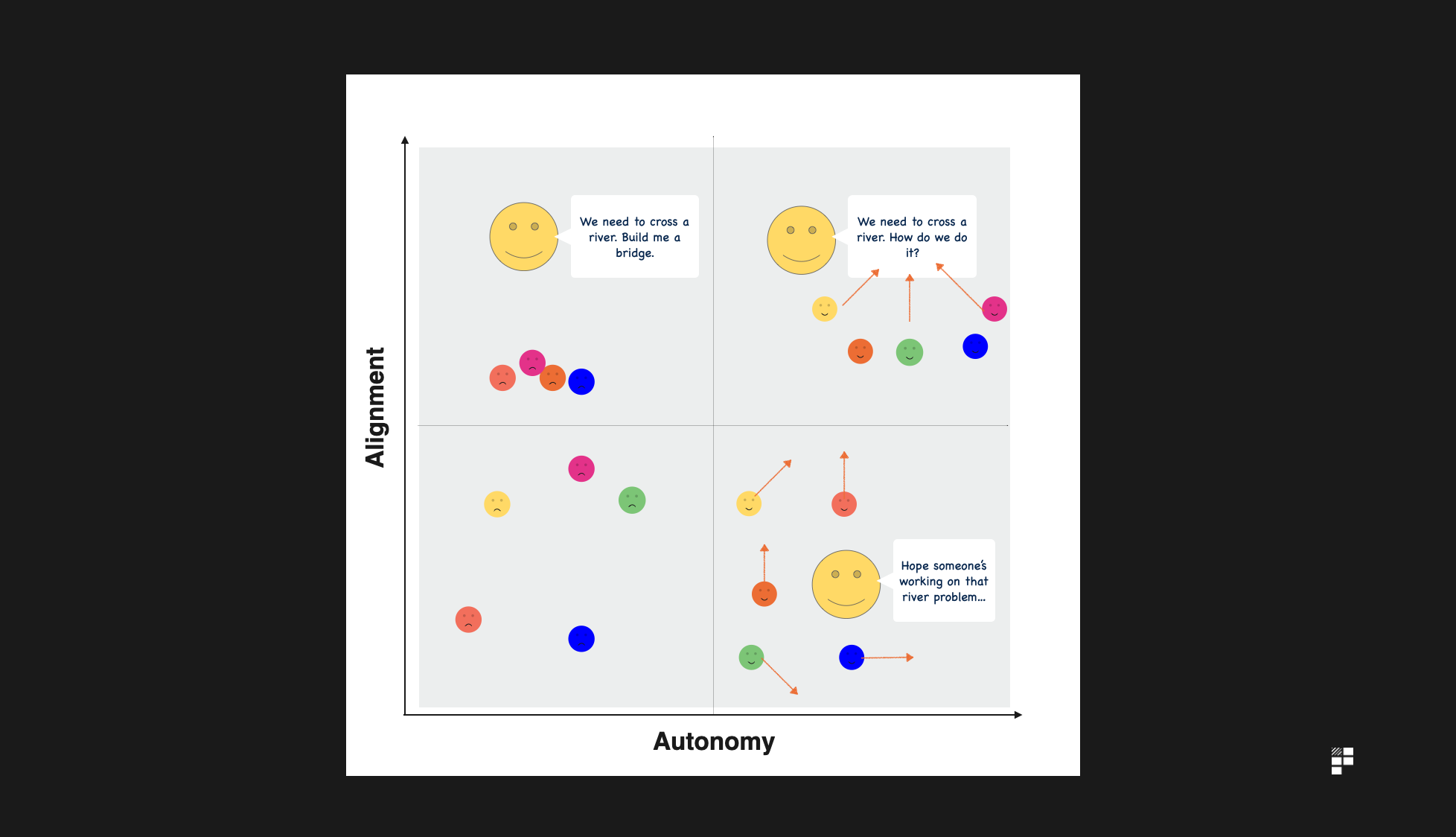 There's also the question of alignment vs. autonomy. Does alignment mean the team just does what the PM says or is there the opportunity to understand the challenge but be given the autonomy to decide how best to approach it?
In an ideal world, product teams would be skilled in finding a balance between alignment and autonomy, but there's a bunch of things to do to get aligned in the first place.
Let's explore 5 practical ways PMs can create alignment in product teams.
1. Reiterate goals, vision, strategy at every appropriate opportunity
You may think you sound like a broken record since you're deeply involved in the strategic side of your business, but product team members may not be as frequently exposed to the strategic side of your company as you are.
This means it's often extremely helpful for product team members to hear about the strategy, goals and vision regularly.
Some teams will create a vision, strategy and roadmap, have a quarterly review and put it into a Google Drive until the next quarter. As a PM, it's important to dust it off and bring your strategy to life by reiterating the important elements of it at every appropriate opportunity.
Maybe you've decided to target a brand new customer segment.
A mobile app could be in a discovery phase after a decision was made at the Product Council to invest heavily in mobile next year.
Or perhaps your strategy involves another team building a new API to test appetite for a commercialised API offering.
Whatever decisions have been made regarding your strategy, reiterate them and what they mean for your team at regular intervals to create alignment on the company's goals and your team's role within it.
You can do this in planning sessions at the start of every week or on a cadence that best suits you, but the important point is that your strategy isn't consigned to a dusty old Google Drive folder, but is instead considered the foundation upon which your team makes decisions every day.
Unless team members know what the vision and strategy includes, they'll be unable to make informed decisions which align their work with the rest of the business.
2. Use product team tools to create alignment
This sounds fairly straightforward – and it is. But a surprising number of teams forget to make their lives easier by using tools that are designed to help them with alignment.
Pin items in chat channels
Make use of features that Slack or Teams offers such as pinning useful items to your team channel.
This could include notes from a meeting, your product roadmap or asynchronous videos. Pinning useful stuff to your team channel also helps with onboarding new team members, too, since they'll be able to deep dive into the most important docs.
Just make sure that your pinned items are still relevant and aren't outdated. It's easy to pin an item and forget about it
Asynchronous video
Asynchronous video updates can be a very effective way to keep team members aligned. They're certainly not a replacement for an actual conversation, but they're a personal way to let members of your team know any important updates without the formality of an email, for example.
Some product teams will use them for daily standups, which can be an effective way to ensure alignment, but PMs can also use them in less obvious scenarios.
You may have just had an important call from a sales team member where they shared an important insight about a recently released feature.
Or maybe you just hit your OKR target for the quarter.
When to use asynchronous video updates
Asynchronous video works best in situations where you're providing clear updates about topics that aren't so ambiguous that they require follow up questions.
If the absence of the opportunity to ask follow up questions is likely to result in more confusion than the value of an async update, it's probably not worth it.
Imagine sharing a quick 3 minute video update which says 'oh, our roadmap has now been radically changed and we're focusing on the B2C market with a mobile app instead.' Yes, this helps to create alignment, but this kind of major strategic shift wouldn't be a suitable candidate for an async video since it's likely to result in more confusion than a considered conversation would.
No code automation tools
No-code automation tools give product managers the perfect opportunity to keep team members aligned.
We've previously highlighted some of the ways product managers can use these tools, but examples in the context of alignment include: meeting highlight transcripts, notifications about changes to the backlog or important updates from competitor analysis.
These subtle interactions serve to keep the 'rhythm' of product teams high tempo. And keep teams aligned.
3. Make PRDs and documentation strategic, organic and collaborative
A simple, but effective way to ensure that team members are aligned is to write smart documentation.
PRDs are often dismissed as staid, corporate relics but with the shift to remote-first work, documentation is now arguably more important than ever. As a result, crafting modern PRDs is essential – and they play a critical role in driving alignment.
There are 3 ways to use PRDs and other documentation help you drive alignment by making them:
Strategic
Organic
Collaborative
A strategic PRD or other document is helpful in driving alignment since it sets the context by explaining clearly why whatever it is your team is working on helps the company achieve its strategy – and how it fits into the wider company strategy.
Secondly, modern docs which drive alignment are organic; they aren't kept in a folder to rot, but instead they're frequently opened, edited, updated and shared. Better still, they're co-created with other team members.
Collaborative documentation drives alignment since the recipients of the documentation are themselves involved in the creation and upkeep of them.
For example, you co-create a user journey with your UX and engineering team members. Or you create some requirements which explain how a feature should work and the team adds comments with thoughts on potential problems, pitfalls and opportunities to approach the feature differently. These are all examples of how a collaborative documentation culture actually helps drive alignment.
4. One on one with team members
Collaboration is helpful but sometimes, team members feel disconnected and uncomfortable raising their concerns in a group setting. A powerful way to drive alignment in product teams is to work one on one with your team members.
This gives your team members the opportunity to ask questions or raise concerns directly. And once you've had a chat, most of the time you'll come away feeling like you've both a) learned something about each other and b) are now more aligned with your shared goals.
Product managers don't tend to line manage other team members, and it's usually the best decision to not make PMs the line managers of product team members as that creates a difficult working dynamic.
However, it's because of this that PMs often think that one on ones are the sphere of line managers only – and as a result, fail to make time for one on ones for fear of encroaching into line management territory.
Taking time out of your day to meet one on one with an engineer, a UX-er, content writer or QA can feel a little 'line manager territory' but the benefits of driving alignment will far outweigh any problems with creating a line management dynamic.
Having said that, there's always a risk that by doing this you make team members too dependent on you and your input.
5. Facilitate collaboration between team members – don't make everything dependent on you
This leads us to our final way for product managers to keep teams aligned. And that's some guidance on collaboration between team members themselves – and not between you and the team member directly.
One on ones have an incredibly important part to play, but ultimately you want the team to feel empowered to make decisions and clarify any problems between themselves – without requiring your input every time.
An engineer might want to understand how an interaction should work on a button.
A content designer might want to figure out the best language to use on the homepage dashboard to keep things consistent.
A QA may want to understand what the most critical test cases are before a release.
In each of these scenarios, it'll often fall to the PM to be involved in the decision somehow. Encourage team members to speak to each other first and figure out a problem or solution without your input. Because in order to drive alignment between team members, one of the best things a PM can do at times is to not be involved at all.