5 No Code Automation Worklows for Product Managers
How to leverage no code automation tools to make day to day life in product more efficient
No code automation tools are big business, with the sector growing into a multi billion dollar industry over the past few years. But despite the impressive growth in the sector, no code tools are still seemingly under utilised by many companies, with nimble startups and solopreneurs appearing to be getting the most out of them.
It's difficult to know where to start with no-code – and to understand the sheer possibilities of what can be automated with these new, emerging tools. Plus, there can often be a bunch of up front work involved in getting automation workflows set up.

To help, we've put together a list of 5 of the most powerful ways that product managers (and product teams in general) leverage no code automation tools to make day to day life in product development easier – and more efficient.
Let's dive in.
1. Save and share important decisions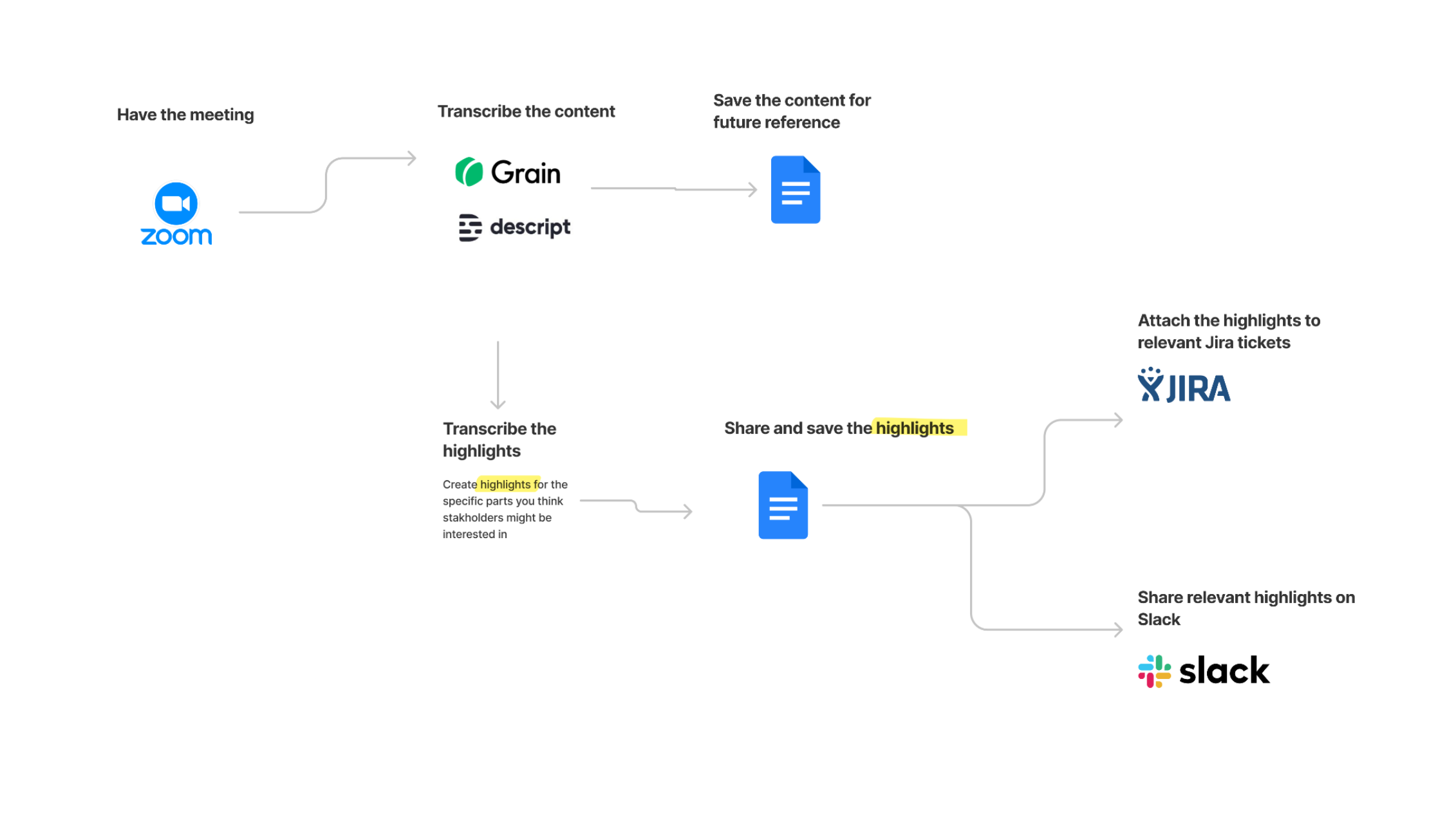 So you've made some important strategic decisions at a meeting with stakeholders. This could be a product council or some other forum that you use to make important strategic decisions.
Or, it could be that you've made some critical decisions about the design of a feature that will impact users.
Rather than having to write up all the decisions that were made – or indeed to supplement the decisions that were made with more context, you could use no code tools to create a workflow that creates a transcript and audio recording and saves those to a deck so that the next time you want to remind yourself about why you made a certain decision, you have the context ready and waiting to be reviewed.
This could also be helpful for new starters who are struggling to understand why a historical decision was made.
Sharing only the important bits
Some transcript tools like Grain and Descript allow you to create highlights which can then be shared. This means, rather than sharing the entire meeting, you could create snippets that are important or relevant to specific teams and then share only the highlights.
Suggested tools required
Zoom (transcripts and recordings enabled)
Grain – tool for creating transcripts and creating highlights
Zapier – for API integrations
Airtable / Google Docs – for storing transcripts
Google Sheets
2. Send release notes to stakeholders and users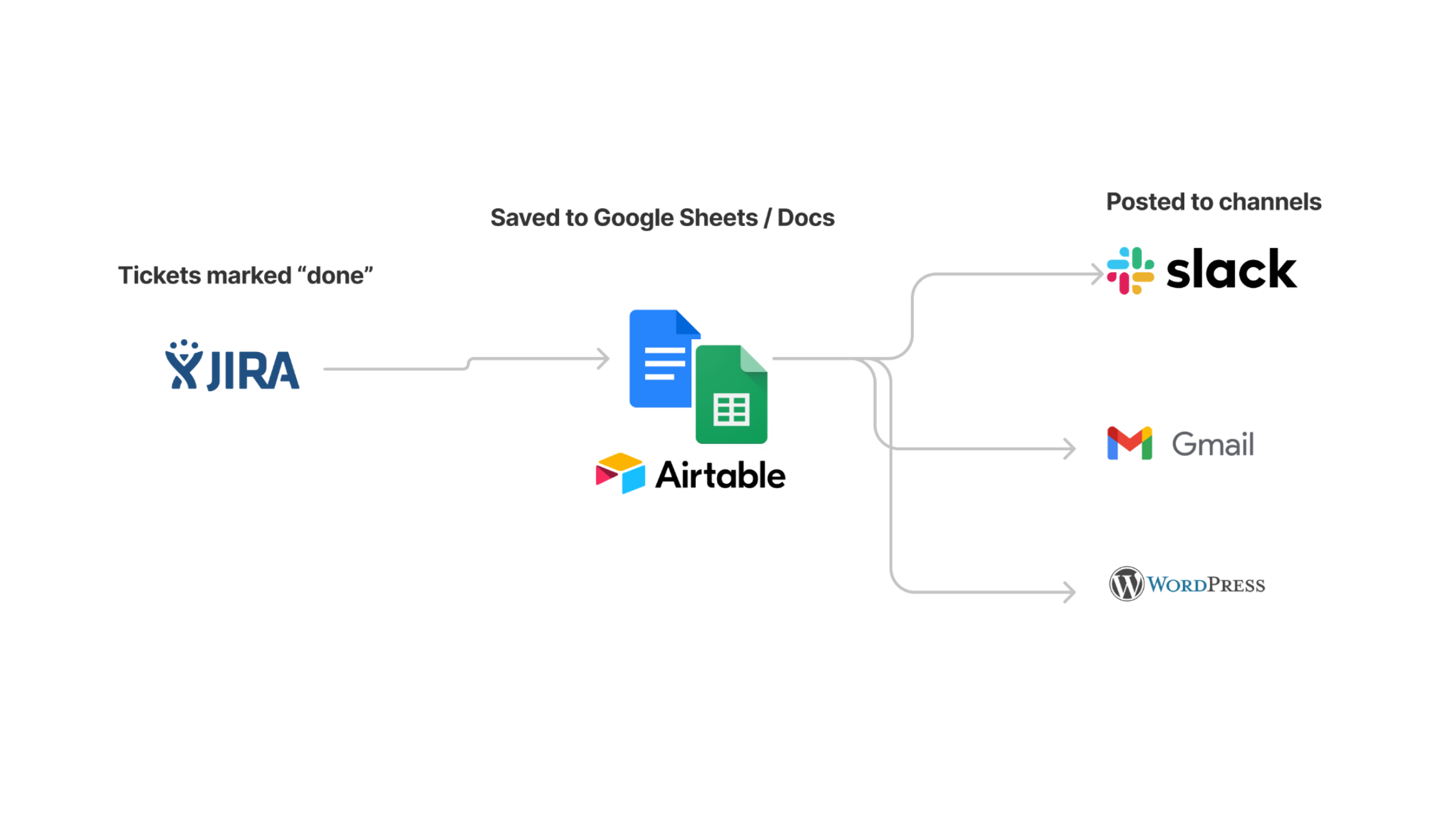 Hooking up Jira, Trello or whatever tools you use to track development tasks to no code automation workflows could also boost your productivity and increase transparency about what you're building. How, exactly?
Imagine every time you release a new feature or a bunch of bug fixes, the development tickets are automatically added to an Airtable or Google Sheet which is then emailed to stakeholders on a weekly basis. Sure, you'll probably need to edit the tickets and make them a little more user friendly for a non-tech audience but having them automatically put into a table for editing will likely make stakeholder management a lot easier.
Once they're in a more user friendly format, release notes could then be repurposed and sent to your users – not just your internal stakeholders – across multiple channels:
Blog – hook up your development tools directly to your CMS so that your marketing / blog writers have all of the latest feature releases, bug fixes and development tasks that can be shared directly with your users.  At the push of a button, the latest product updates could be published as a new blog post.
CRM – an email sent to your users via your CRM could contain all your latest releases. And no code tools can also integrate with more advanced live chat / customer success tools such as Intercom. An announcement could be broadcast once new features are deployed or bugs are fixed.
Socials – just as you can send these updates out on your blog and CRM / customer management platforms, your social channels can also be used for the same content. Posting Twitter updates when a bug has been fixed or a new feature has been released is a neat way to keep users engaged.
Suggested tools
Zapier
Airtable
Google Sheets
WordPress
Intercom
3. Get competitor activity alerts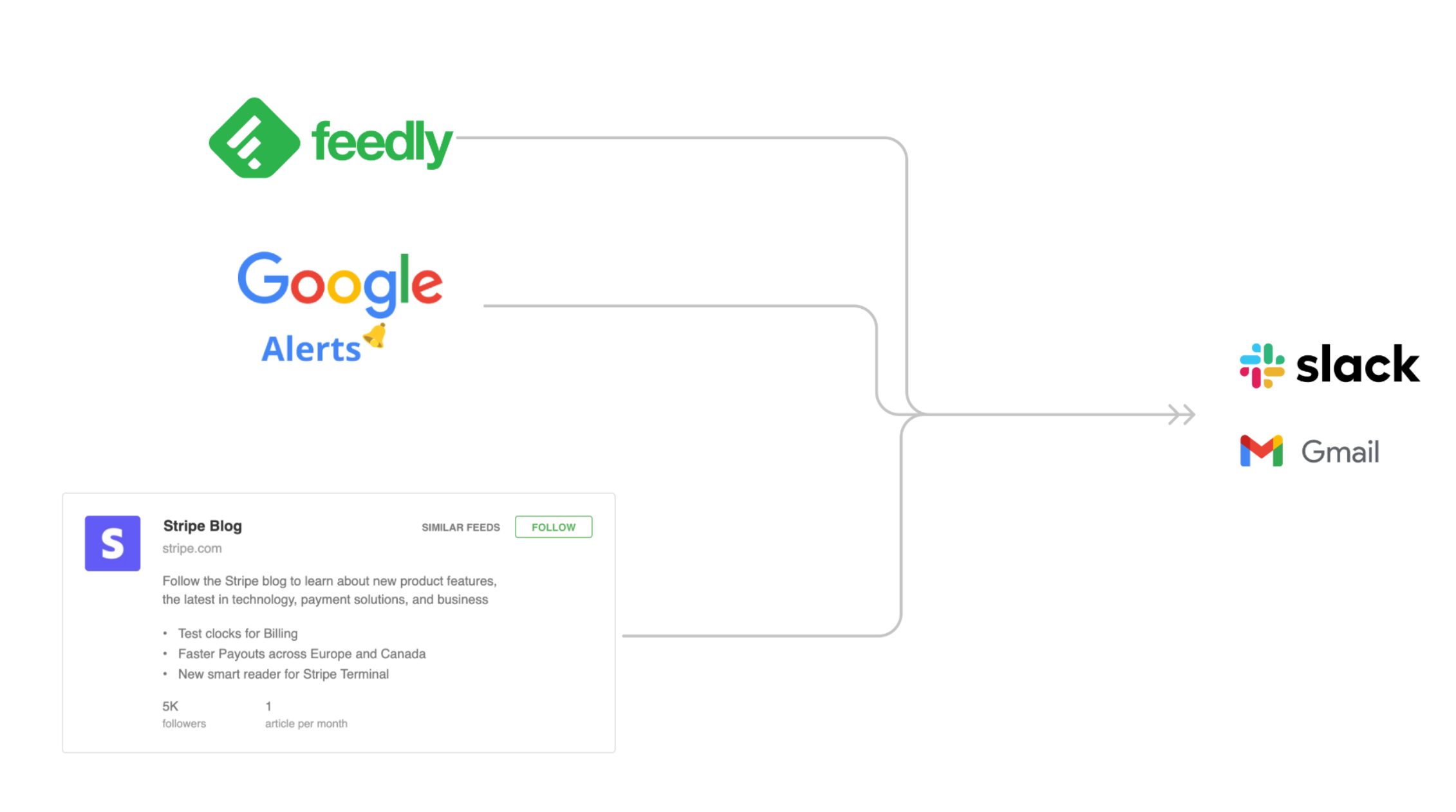 Keeping track of what your competitors are up to is tough work when you're trying to build a product of your own. Luckily, no-code automation workflows can help you with this too.
Let's imagine you work for a mobile data analytics product and you want to keep track of what the industry is up to without having to manually check every competitor site.
Using Google Alerts, you could create an alert which is triggered by keywords 'mobile data analytics' or 'competitorName1', 'competitorName2'. Google Alerts allows you to create an RSS feed based on these keywords which means you can subscribe to this feed and save instances of it to use elsewhere.
What does this mean? It basically means that you can get alerted whenever news stories are published about your industry or competitors and from there you can:
Post the alert in a Slack channel dedicated to competitor alerts
Save the alerts in a competitor analysis spreadsheet or table
Email the alerts to a select group of people who might be interested
The untapped potential of RSS feeds and competitor analysis
RSS feed management tools like Feedly and Feeder can also act as a filtering tool to consolidate all competitor activity into one easy to read feed.
Rather than just relying on Google Alerts, if your competitors are big enough, you could subscribe to their RSS feeds to get the latest information on new features they've shipped or initiatives they've launched.
Examples of company blogs that can be used for RSS competitor activity updates
Suggested tools
Google Alerts
Zapier
Slack
Feedly or Feeder
More information on tracking Google Alerts.
4. Get customer feedback alerts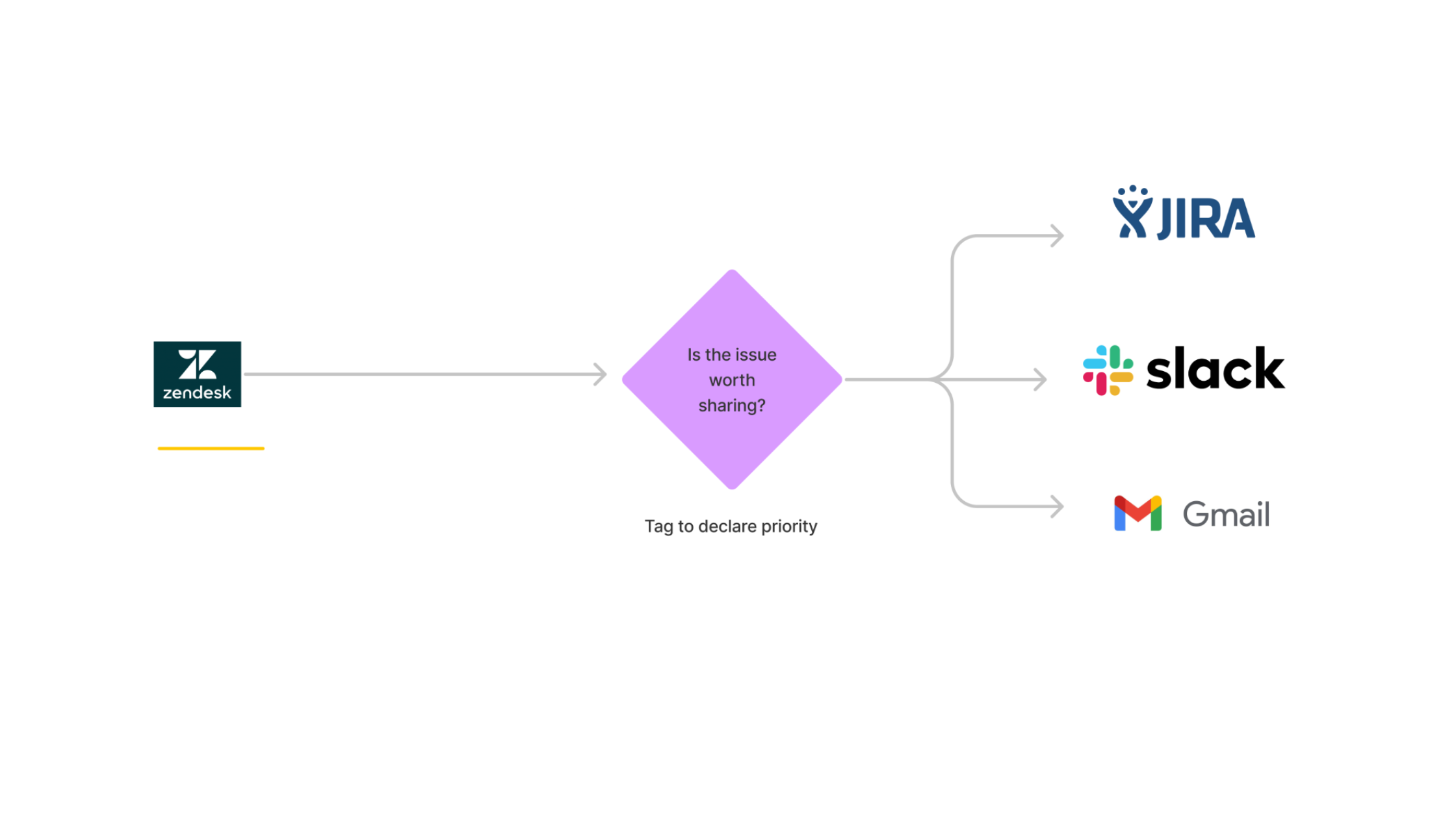 This may be one that is more directly helpful to customer service and customer success teams, but creating a searchable log of customer feedback alerts might be helpful to the wider product team too.
Every time a new customer service issue is raised, the problem could be added into a Slack channel or a centralised document so that team members can digest it.
Now I know what you're thinking… 'is it really a wise idea to put all customer service issues into a Slack channel?'. Probably not. So to avoid polluting your workspaces with stuff that may not be valuable to everyone, you could set up your automation flow only for customer service / feedback issues that are either:
High priority – and need the urgent attention of the team or
Worth knowing about for other reasons – a celebration of success for example (since not all customer feedback will be problem-related 🙂 )
5. Manage user testing research findings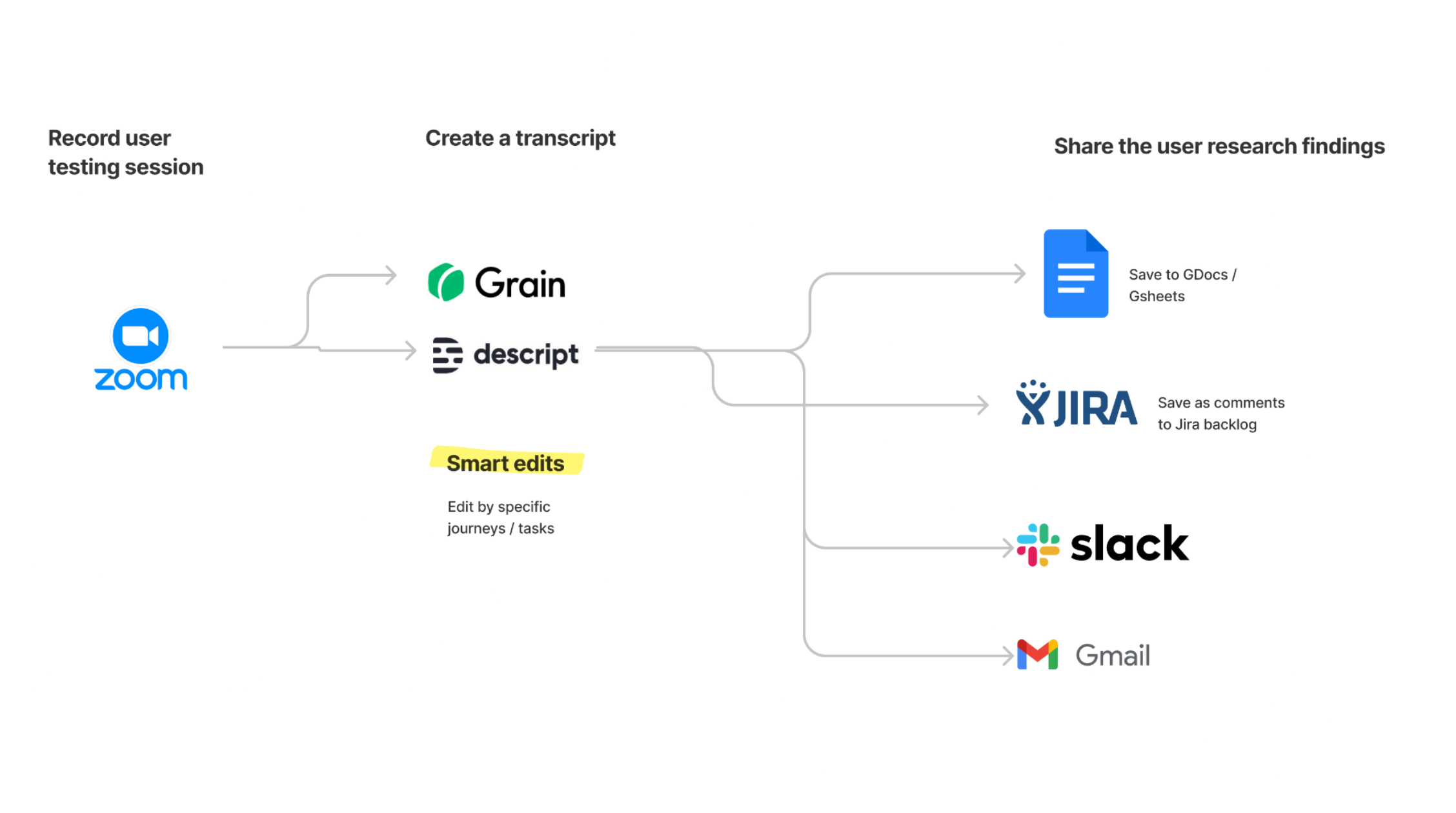 User testing sessions can be extremely valuable, but also time consuming. For teams without dedicated user researchers, no-code tools can help to streamline the process and make the findings easier to digest.
For team members who are unable to attend user testing sessions in person, no-code tools could be used to automate some of the findings to make reviewing the findings easier.
All sessions could be automatically recorded and transcribed using Zoom, with the transcripts saved into Google Docs or drive and automatically shared via email or Slack once they're ready.
Smart editing
You could even use editing tools such as Descript as part of your workflow to remove silences and make the videos easier to digest. Descript allows you to search your videos by text, making it easier to navigate where you are in a specific user testing session. This could allow you to edit your videos into chunks that are more digestible and relevant for specific audiences.
Example
Let's say you're running some usability test sessions with 5 different customers where you're testing 3 different parts of the product:
The registration process
The checkout flow
The activation journey
Using smart transcription tools you say some keywords before each section e.g. 'starting registration flow' and this would allow you to easily break your videos up into separate chunks and only share the relevant parts of the user testing sessions with the relevant teams.
You could automatically append the research findings to product roadmap / backlog management tools to provide more context for engineers.
How to identify opportunities for automation
With so many different possible ways to automate your product processes, it's actually pretty difficult to know which workflows could – or should be automated.
 1. Map out existing workflows
To identify opportunities for automation, try mapping out your existing workflows that you perform on a regular basis. To do this, bring up your calendar and your to do list app (if you use one), and identify regular patterns of behaviour. Don't worry about automation at this stage, just look at workflows and behaviour.
You can do this on a micro-level and macro level, too.
Micro automation vs. macro automation
In this context, micro means tasks which impact a small part of the overall process or only impact you and macro means tasks which impact the overall team or the overall process.
For example, you could look at 'planning' from a macro perspective since it involves all members of the team, but looking at the entire process, you might identify micro opportunities for automation, too.
2. Ask yourself questions
Questions to ask yourself about potential automation candidates
Repeatable – is this a task that consists of repeatable sequences which can be easily mapped out?
Frequency – is this a task that is repeatable on a regular basis?
Time cost – does this task take up an undue amount of time that you would benefit from automating?
Value – does automating the process reduce the value that the process creates? In other words, does automating the task negatively impact the intended value of the work. If so, it might not be a viable candidate for automation – at least not in its entirety.
Tasks which score highly under the scrutiny of these questions could be good opportunities for automation.
3. Hire a no-code automation experts
Finally, if you're serious about automation, there is a new field of no-code experts emerging who are dedicated to helping companies eliminate waste by automating parts of their process.
Whilst this may sound like a strange request to your boss or leadership team, hiring a no-code automation expert to work with you and your team for a few days could be highly beneficial in helping to identify – and implement automated workflows in your business.
Airtable, for example, has its own dedicated consultant directory.
Summary of Useful no code tools
Interested in taking your no-code automation skills to the next level? Here's a bunch of tools we like: