4 Meetings to Master as a Product Manager
How to excel in the meetings you dread the most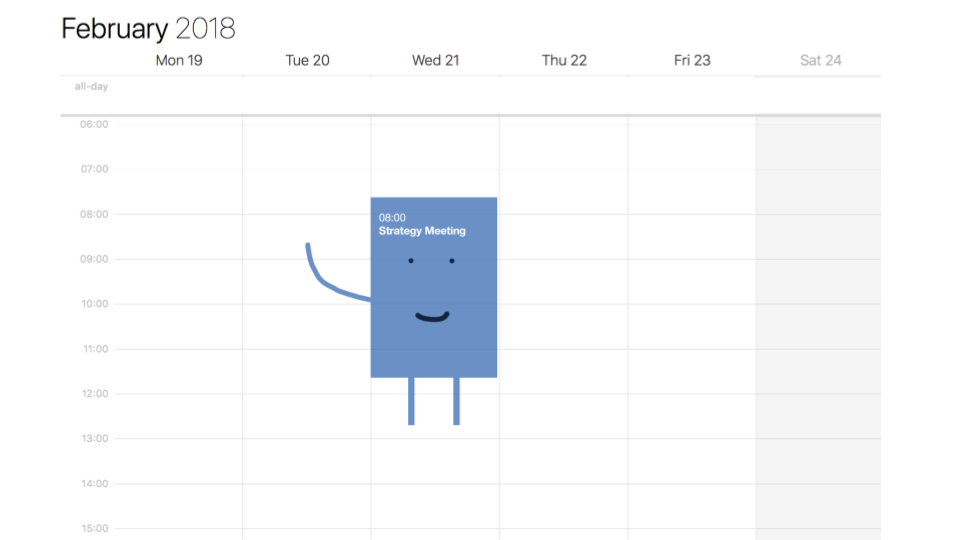 Monday morning meetings, recurring 1-1 meetings, team meetings and weekly company all hands. You might sometimes feel like you'd rather disappear into a black hole for a few months than spend a single additional minute of your time on the planet in meetings, but the unfortunate truth is that meetings are a necessary part of getting things done in product teams. So it's probably a good idea, then, to invest some time in conducting meetings effectively so that you can ultimately spend less time in them.
Here's a little guide we've put together to help you to optimize the meetings product teams have the most. Each meeting guide has a bunch of resources included which we hope you'll find useful.
The meetings we dread the most
If you're anything like the product folks I know, it's likely that your calendar looks something like this, with a diary packed full of meetings with various stakeholders, team members and third parties: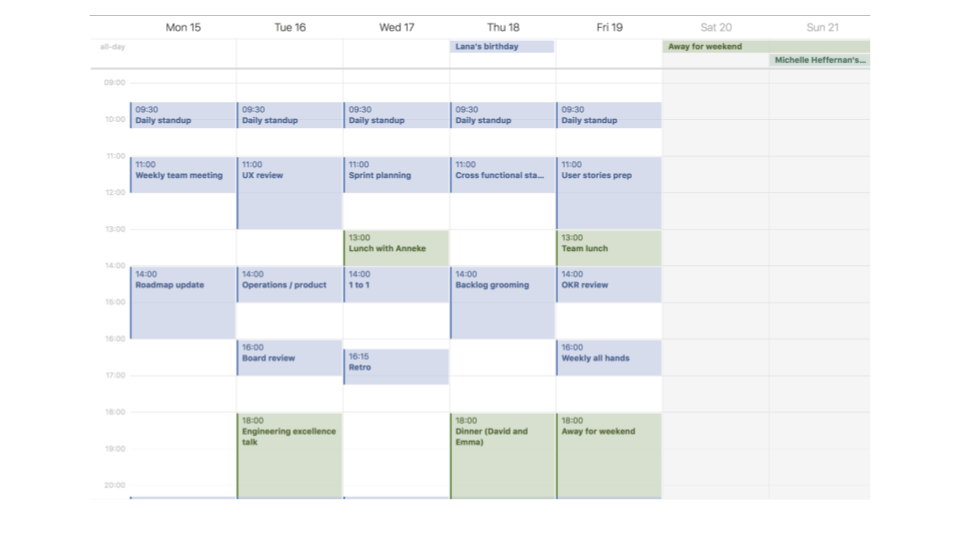 Whilst there are a number of different meetings we have to deal with on a day to day basis, some meetings tend to be more stressful than others. Here's a selection of some of the meetings you probably look forward to least:
Before we dig deep into each of these, let's get explore a few bits and pieces.
Guiding principles
"How can you achieve your 10 year plan in the next 6 months?"   –  Peter Thiel
Here are some guiding principles to follow which can be applied across all types of meetings, not just the most difficult or common ones:
Introduce timebox mechanics – Mr Peter Thiel suggests you practice asking yourself the blunt question "how can you achieve your 10 year plan in the next 6 months?'. Apply this to your meeting etiquette and force yourself to trim your meetings down to the most essential components within an aggressive time frame. Google's browser timer is a quick, practical way to introduce a timebox mechanic to your meetings.
Be disciplined – how many times have you arrived at a meeting someone else invited you to, only to discover that nobody has bothered to come prepared, including the person who invited you? Be disciplined and come prepared – particularly for your own meetings!
Agree actions and outcomes – have you ever left a meeting and thought to yourself 'so… what did we actually agree to in that meeting'? This often happens when there's a difficult decision to be made and nobody wants to make it. Aim to agree on the outcome of a meeting – even if the outcome is that you haven't yet reached full agreement.
3 Unconventional persuasion tools and tactics
Perhaps one of the most difficult types of meetings are the ones where you know beforehand that you and someone else completely disagree on a particular problem, solution or decision. You know you disagree because you may have had an email exchange beforehand or a disagreement in a prior meeting. In fact, you've called this meeting to resolve your disagreement.
In these situations and indeed other meetings, it helps to arm yourself with a couple of powerful, practical persuasion tools and tactics so that you can influence the other person.
Here's some unconventional ways to persuade people in your meetings:
Attention hijacking – introducing a change in environmental circumstances hijacks human attention and acts as a jolt which can make your message more persuasive. Try having your meeting in a completely different environment out of the office, presenting information via an unexpected medium (whiteboard only vs. powerpoint) or using concepts from completely unrelated and unexpected industries to jolt your attendees attention.
Shared birthdays – merely creating a positive association with someone's birthday can help you to get them on side. If you're presenting to a team and 1 person is the decision maker, try searching your internal HR systems for their birthday and using that strategically in your presentation. For example, if you're presenting mockups, you might include the birthday as your example in the mockup.
Implicit egoism – Coca Cola produced 100 million cans of coke in the UK with your name written on it for a reason. And the reason is known as 'implicit egoism' where your ego takes control over your decision making. This can work in your favour if you're aware of it. One way to do this in a meetings context is to personalise your materials to your audience by carefully using the name of the attendee(s) you want to influence. For example, if you've put together a deck, including the other person's name on the opening slide next to yours will work in your favour. A simple line such as 'Prepared by [Your name] for [Their name]' will do the trick.
Yes, I know, some of those do seem a little machiavellian and borderline evil, but they are fun concepts to know about nonetheless.
By now you're probably thinking, 'OK, that's enough of the waffle, where are these meetings?'. Fair enough. Let's dive in.