The Department of Product
Briefing
DuoLingo's monetization machine and Google banishes blue links Plus: Apple's new voice clones, a new tool for async comms and the demise of Stack Overflow
Hi product people 👋,
For introverts who hate time wasting, the future of work has always been async-first. But it's taken a little while for others to catch up. Now that it's widely accepted that asynchronous work can indeed work, a new startup is hoping to jump on the async voice note bandwagon and apply it to a corporate context. Async describes itself as the 'quick call that should have been a voice message' with the promise to free up your calendar. It works by creating an async inbox, ordered by conversations and you can check out a demo of it here. It all looks beautifully designed but the big question for competitors to Slack and Teams is: how do you compete with Slack and Teams?
One company that has seemingly opted out of that battle is Google. And last week, the company showcased everything its product teams have been busy working on over the past year at its I/O event. Perhaps the most radical update worth noting for product teams is the overhaul of its search results page. In a preview shown to guests at the event, the new 'Search Generative Experience' (SGE) is one of the biggest updates to the search experience in history.
The new interface prioritises AI-generated information over the standard 10 blue colored links. The AI-generated information, powered by Bard, isn't just prioritised; it takes up the entire top half of the screen. Despite the radical redesign, Google claims that search will still to be the 'jumping off point' to the wider web since results do still include a small selection of links. But this early preview is a warning to tech companies dependent on SEO traffic: if genAI gives users all the answers they need, why would they bother clicking through to the web? It's a strategic dilemma for Google since the better Bard gets, the more it destroys their core business model. You can watch it in action here.
Meanwhile, DuoLingo impressed investors this week. DAUs were up 62% on the quarter and one DuoLingo user has suggested a unique idea of his own to drive DAUs even higher. Where the company really excelled though, is revenues, with total revenues of $115.7 million, up 42% on the year. Much of this is down to its new-found monetization machine, DuoLingo Max. CEO Luis von Ahn highlighted the company's unique mix of proprietary machine learning models and GPT-4 as a competitive advantage and a key driver of these increased revenues.
Finally, if you struggle to juggle messages from Slack, iMessage, WhatsApp, Teams and everything else, this new tool will consolidate it all for you.
Enjoy the rest of your week!
---
Essential reads for product teams
UX – Why good UI can't fix bad copy and how to develop an interface voice
Does the interface talk in American English or British English? What are the rules regarding exclamation marks?! Do you use sentence casing or title casing in UI elements? With guidelines, you can create a voice and build a cohesive user experience. (Julie Chabin)
Strategy – How to develop an API-first product strategy
API-first is a product-centric approach to developing APIs. It views the role of APIs as discrete products, rather than integrations subsumed within other systems. The overall goal is to produce a set of modular, interoperable APIs which, when combined, create an API platform that fosters innovation. (Dave Garvey)
Tools you can use
Growth – How Notion used community-led growth
To achieve product-market fit, Notion focused on expanding its user base across different sectors and use cases. The company adopted a freemium model, allowing users to experience the core functionality for free while offering premium plans with enhanced features for power users and businesses. ( 
 )
Technical explainers – What is single sign on?
Besides improving and simplifying the login experience for the user, SSO is also beneficial to organizations. It's an easy, affordable and secure way to maintain control over access to applications and services. (Descope)
Recommended newsletter – The Knowledge
The Knowledge is a weekly newsletter for people who want to get more out of life. It includes insights and frameworks to help you think deeper and work smarter. (Recommendation)
Tweets to smile at
---
New product features, launches and announcements this week
Ex Googlers unveiled a neat new product which grabbed our attention. It's called Rooms and the idea is simple: create a small, unique, interactive space on the web called a Room. Part MySpace, part digital Lego, part Minecraft, the startup announced $10m in funding from investors Andreessen Horowitz.
Apple has announced a new feature called Personal Voice which uses a synthesized version of your voice is set be released in iOS17. It takes 15 minutes of voice recordings of a randomized set of text prompts to learn how to replicate your voice and is pitched as an accessibility tool, but is likely to be more widely adopted if the quality is high.
Bumble has launched a new "Top Artists" feature which pulls artists from a user's top 50 Spotify artists and displays it on a user's profile.
Zoom is partnering with Anthropic to integrate AI into its productivity platform. Anthropic uses a 'constitutional AI' model which aims to embed value systems defined by a constitution to help shape behaviour. Zoom's chief product officer Smita Hashim says the partnership will start by using the chatbot technology in customer support to "take customer relationships to another level".
WhatsApp is rolling out a new feature called Chat Lock that will ensure private conversations remain private by allowing users to hide and lock specific conversations.
---
Product insights and trends to stay informed
Traffic to Stack Overflow is down 14% since the launch of ChatGPT as developers make the switch away from humans to AI for debugging. Github CoPilot sign ups have tripled since January 2023.
Cash stuffing is a new trend adopted by financially anxious Gen-Zers on TikTok.
32% of business leaders surveyed in Microsoft's Work Trend Index annual report said increasing employee productivity is what they would value most about AI in the workplace vs 16% who opted for reducing headcount. Full report here.
Free returns for ecommerce products are on their way out. 41% of retailers charged some kind of return shipping fee in 2022, up from 33% in 2021.
Tablet sales have dipped again and are now far below pre-pandemic levels having dropped 18% year-on-year in Q1 2023.
Notion has hit $10 million in annual recurring revenue (ARR) since the launch of its new GenAI feature which costs $8 a month.
---
Other industry news in brief
Ring founder Jamie Siminoff is leaving Amazon to become CEO of enterprise smart home company Latch.
Twitter has unveiled Linda Yaccarino as new CEO as Elon Musk confirms plans to become the everything app.
Former PayPal COO David Sacks has joined Rumble's board of directors.
---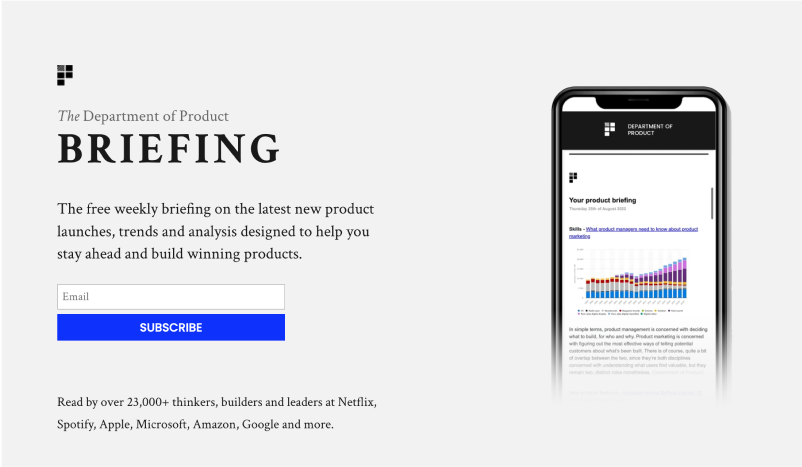 Briefing artwork: A painting of venture capitalist bankers panicking after everyone withdrew their money at the same time causing chaos in the style of a gothic batman movie
All yours, all free. Enter your email to receive your briefing.
Airtable AI and a new browser
Plus: Meta's paid sub plans, Airbnb's trouble in NYC and how to measure engineering productivity