The Department of Product
Briefing
Snap's AI backlash and Gmail gets beautified. Plus: a new tool for improving your writing, Spotify earnings impress and Klarna releases a new human shopping assistant
Hello product people 👋,
The backlash against the AI-ification of everything has begun. Shoehorning AI features into consumer products may keep execs happy as a box-checking exercise, but savvy users are starting to rebel. Snapchat learned this the hard way this week after the launch of its new feature, My AI, saw its average App Store review ratings plunge to just 1.67 stars. It's a dilemma for product teams in 2023: AI is moving at such a pace that presenting a roadmap that doesn't include some sort of AI feature feels like the fast track to failure. But with so many products now scrambling to slap a GPT wrapper around a new feature and hope for the best, releasing AI features for the sake of it also comes with its own – potentially greater – risks. 
If you're a fan of simplicity and pared back UI, a new product we discovered this week promises to transform the generic Gmail experience into a premium one. With a promise to boost productivity, Simplify is a Chrome extension that prioritises the important elements of your email and calendar to help you get stuff done.
Meanwhile, it's been a big week for tech company earnings. Microsoft unveiled its latest numbers with revenues jumping 7% to $52.9 billion. Product specific takeaways worth knowing include Cloud revenues up 16% to $22.1 billion, LinkedIn revenues up 8% and the announcement that Teams now boasts 300 million active users. Microsoft is reported to be mulling the unbundling of Teams from its Office software packages in an attempt to appease regulators. 
Spotify also reported its latest earnings this week and investors reacted positively. Revenues grew 14% to €3 billion, MAUs were up 22% to 515 million and premium subscribers grew 15% to 210 million. The company's vision statement is to 'unlock the potential of human creativity' and the product teams have certainly been busy in their attempts to bring that vision to life. Product highlights from the quarter include the launch of Meet Your DJ, artist countdown pages and the controversial redesigned UX which borrows heavily from TikTok. For more details on new features released in the quarter and the company's financials you can check out the company's investor deck here.
Finally, if you're bored of the way you run your meetings, these 40+ templates designed for managers might help.
Enjoy the rest of your week!
---
Essential reads for product teams
Process – How Spotify improves collaboration between design and engineering
At Spotify, we have a five-step process that allows different disciplines to align and get stuff done. We call it "The Scale" and it's basically a remake of the classic design thinking framework. (Spotify Design Blog)
Free mini-conference – Supercharge your product team
Building great products in today's economy requires teams to adapt, think big, make good bets, work collaboratively, and execute faster. Join the Product Makers community mini-conference from May 30-June 1 and learn how to supercharge your product team. Register now for FREE. (Sponsored)
Tools you can use
Tiblo – turn your tasks into calendar blocks

Glimpse – an alternative to Google Trends to help with product market analysis

Rewrote – improve your every day writing in Gmail, LinkedIn and on the web
Technical explainers – What exactly is multi factor authentication?
As the name implies, multifactor authentication requires users to complete one or more extra steps to log into an MFA-enabled account. These steps are authentication factors. A username-password combination is the first factor, and subsequent required factors (like security questions, among others) give MFA its name. (Twilio blog)
New skills – How to write good AI prompts
Notion's product team explains how to write AI prompts which can be used either in Notion or more broadly across other applications, too. (Notion)
Talks worth watching
OpenAI cofounder Greg Brockman explores the underlying design principles of ChatGPT and demos some mind-blowing, unreleased plug-ins for the chatbot that sent shockwaves across the world.
---
🧘 Inspiration
If you're struggling to get stuff shipped, turn to these stories as little nuggets of inspiration.
Stripe's self described operating cadence is 'run'.
The CEO of Stripe even has a collection of short stories about projects that were built ahead of time, despite naysayers saying it wasn't possible.
These wonderful little anecdotes include:
The construction of the Eiffel Tower which took two years and two months

The first iteration of Disneyland which was built in just 366 days

The Empire State building which was started and finished within 410 days
---
🚀 New product features, launches and announcements this week
Klarna is launching a new personalised shopping assistant called Ask Klarna where users can speak to real fashion experts. The most surprising part? It's powered by humans.
Slack is rolling out its new Canvas feature. First announced last year, Canvas is a collaborative tool for document creation. The company says it sees it as a complement – not competitor – to Google Docs, much in the same way Huddles complement Zoom or Meet calls.
OpenAI is reported to be launching a subscription-based, B2B version of ChatGPT that will allow companies to retain control of the data it generates.
Yelp announces a new 'surprise me' feature, designed to help people overcome analysis paralysis. It works by generating random restaurant recommendations which are featured in the home feed. Other features announced by chief product officer Craig Saldanha include LLM-powered search results, new expressive video reaction and short form video reviews.
Google is adding a new feature to Workspace apps that will help users quickly locate commonly used tools. The 'enhanced toolbar' allows you to search through menus to find the exact functionality you need by typing it into a search field. 
---
📈 Product insights and trends to stay informed
Snap's negative reviews following the rollout of its new AI features:
In 2022, $162 billion of Google's $280 billion in revenue came from search ads. Google parent Alphabet's operating income fell 13% to $17.4 billion in the first quarter 2023.
Despite losing its initial buzz, BeReal says it still has more than 20 million daily active users. Product teams at the company have confirmed that the app will soon allow you to post photos on the app more than once per day, demonstrating how feature-based differentiators can lose their strategic effectiveness over time.
Hands-free input is on the rise – 30% of respondents in a recent YouGov poll say they communicate via voice note "weekly, daily or multiple times a day". Dating app Hinge reported a 37% increase of voice note use year on year. 
Spotify now reaches 500m monthly active users for the first time.
---
Recommended newsletters
Get to grips with technical system designs. Each week ByteByteGo breaks down technical design patterns from companies including Uber, LinkedIn, Amazon and more.
Join 300,000+ professionals and get the data, anecdotes and visuals you need to understand today's world and take your office small talk to the next level.
---
Other industry news in brief
Pinterest hires Sabrina Ellis as chief product officer. Ellis spent the last 12 years at Google, leading work on the Google Pixel.
Stack Overflow joins Reddit and Twitter by announcing plans to charge for access to its training data.
Lyft's new job cuts may impact 30% of staff.
---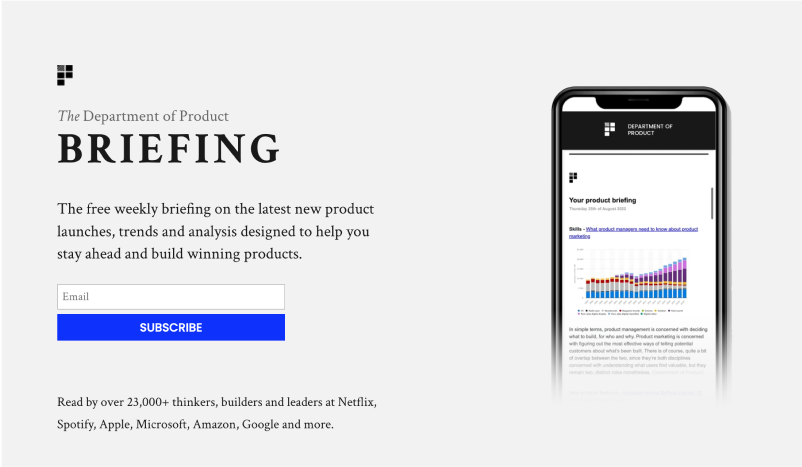 Briefing artwork: A painting of venture capitalist bankers panicking after everyone withdrew their money at the same time causing chaos in the style of a gothic batman movie
All yours, all free. Enter your email to receive your briefing.
Airtable AI and a new browser
Plus: Meta's paid sub plans, Airbnb's trouble in NYC and how to measure engineering productivity