The Department of Product
Briefing
YouTube's vision for the future, a new tool to ask your codebase questions, the Meerkat founder returns and the new state of product
Hello product people,
YouTube's chief product officer Neal Mohan has outlined his vision for the company following the departure of long time chief Susan Wojcicki. In a letter detailing the 2023 roadmap, highlights include more monetization options outside of ads including paid subscriptions and digital goods, more podcasting tools to help it grow its share of the podcast market and exclusivity agreements with gamers as the company looks to eat into Twitch's video streaming market. There was also a nod to a future announcement – albeit with scant details – about new generative AI tools that could be coming for content creators. The two examples mentioned in the update were virtual outfit swaps and AI generative film sets. You can check out the letter in full here.
Meanwhile, despite no longer publicly reporting its earnings, according to a report in the Wall Street Journal, Twitter did provide an update to investors in private. The company reportedly saw a decline of about 40% year on year in revenue and earnings for December 2022 as major advertisers pulled spending. This trend is set to be reversed in 2023 and it is rumoured that Elon Musk ultimately plans to shift its monetization strategy away from a dependence on ad revenues to focus on payment features. But if this week's API outage is anything to go by, the platform is still far from stable enough to become a trusted payment facilitator.
One product hoping to capitalise on the troubles at Twitter is Towns. Remember Meerkat? Back in 2015, the live video streaming product took the world by storm for a brief moment, before ultimately being eclipsed by Periscope (which got acquired by Twitter). Founder Ben Rubin's new product, Towns, recently announced a $25.5 million round of funding and aims to create a digital town square where members can 'define the borders, set the rules and build the world they want'.
Other new products which caught our eye this week include Bloop. In what appears to be a rather niche use case, we can see why some product teams might find it useful. Bloop allows engineering teams to ask their codebase questions using NLP. So an engineer might ask 'what's our current approach to Github auth' or 'what features do we currently have flagged so that users can't see them'? An excellent idea, but the proof will be in the pudding. 
Finally, if you're plagued by decision making paralysis, this new tool is squarely focused on helping you out.
Enjoy the rest of your week!
PS, admissions for the upcoming program Mastering Product Strategy, are now open – with a limited number of early bird launch seats available until 28th March.
---

Your product briefing
Technical explainers – The React virtual DOM explained
According to the documentation of React, "Virtual DOM or VDOM is just a virtual representation of the UI which is kept in the memory and synced with Real DOM". In simpler terms, VDOM is no different from the real DOM, except that it is the virtual or lightweight copy of the UI that is stored in the memory and is always in contact with the actual one. (Hackernoon)
Tweets worth reading
VC Benedict Evans on the sleeper growth of Amazon's ad business
I wrote, again, about Amazon's $40bn ads business. It's bigger than Prime, bigger than the entire global newspaper industry and probably more profitable than AWS. But are these really ads, rent, or something else? And what does that mean for Google? https://t.co/hXVHKsSyGL

— Benedict Evans (@benedictevans) March 6, 2023
Tools you can use – DataQA – unlock your company knowledge via Slack
DataQA is a Slack-native knowledge management app that helps teams bookmark, tag and save information inside Slack.
Recommended newsletter – The Swipe Files
Cutting edge, occasionally crazy growth ideas to grow your SaaS product. The Swipe Files is a free weekly newsletter designed to help product teams Build a marketing engine that generates consistent, predictable MRR growth. (Recommendation)
Report – State of Product Survey 2023
Key takeaways from the Department of Product's State of Product 2023 Survey:
Salaries remain higher in the US vs. Europe and rest of the world

Product commercial performance has been impacted by the economic situation with 33% of respondents saying their performance is worse than expected

Most product teams report new features getting released with small delays (~2 weeks later than planned)
(Department of Product)
Strategy – How Duolingo reignited user growth
With the release of the update, I expectantly waited for an unmitigated success. Depressingly, the result of all that effort was completely neutral. No change to our retention. No increase in DAU. We hardly got any user feedback at all. I was deflated. The greatest effect the initiative had was on our team. After the results came out, we quickly fell into dissension. Some wanted to continue iterating on the idea, while others wanted to pivot. (Lenny's Newsletter)
The total cognitive load, or amount of mental processing power needed to use your site, affects how easily users find content and complete tasks. (NN Group)
Interview – Reddit's chief product officer on why simplicity is key to its strategy
 We found Reddit to be kind of like this "in" thing, where if you actually got the joke and you're on the inside, then you really understand Reddit, you love it and see the value of it. You might even start putting "Reddit" in all of your Google search queries so you get Reddit results, because you know that's the place you trust for authentic information. (The Verge)
---
Freshly shipped this week
Google Docs and Drive rolls out a new, simpler UI. In a post outlining the changes, Google's product team explains that the new changes are designed to 'streamline core collaboration journeys' across its products.
TikTok launches 'Series' feature which lets users sell premium episodes up to 20 minutes eat. The new monetization feature allows creators to set their own price for each episode.
Snap allows paid users to 'pause' their streaks.
Uber launches step by step maps to help users navigate airports. The company will also begin calculating and offering airport walking ETAs elsewhere in the app.
Brave browser launches an AI-powered summarization feature to provide a synopsis of every search query using different sources.
---
Product insights and trends to stay informed
TikTok's day 30 retention rate is 34%, Instagram's is 56% and Snap's is 33% according to a new piece of analysis courtesy of A16z.
Voice cloning scams are on the rise thanks to generative AI tools.
Only 1 in 5 of those who install a fintech app go on to actually use it. Of those who do, 70% do so within 75 seconds after launching the app.
62% of companies suffered a data breach that can be at least partially attributed to working from home.
A new trend is emerging for ecommerce businesses: resale at checkout. In a bid to offset carbon emissions, ecommerce businesses are offering users the ability to guarantee a trade in later for a set price.
ChatGPT's follow up language model, GPT-4 is expected to have 100 trillion parameters – roughly 500x its predecessor.
---
Other product news in brief
Airbnb product exec Bruce Vaughn is joining Walt Disney as chief creative officer.
Salesforce launches a $250 million fund for generative AI startups. Salesforce Ventures previously invested in companies that have gone public, including Zoom, Snowflake and Docusign.
Atlassian cuts 5% of its workforce as it seeks to double down its efforts on core products including Jira.
Zoom abruptly fires its president and former Google exec Greg Tomb without cause.
Meta has dropped the price of its VR headset after underwhelming sales amid rumours the company is planning to pivot resources into generative AI.
---
Recommended newsletters
Looking for additional newsletters to keep your product brain well fed? Here's what we read every week:
One financial concept for tech workers explained simply and clearly. Delivered to your inbox every week. (Substack)
Carefully curated digital marketing news, tech, and actionable advice, delivered fresh every weekday. Consumed in 7 minutes or less.
Join 300,000+ professionals and get the data, anecdotes and visuals you need to understand today's world and take your office small talk to the next level.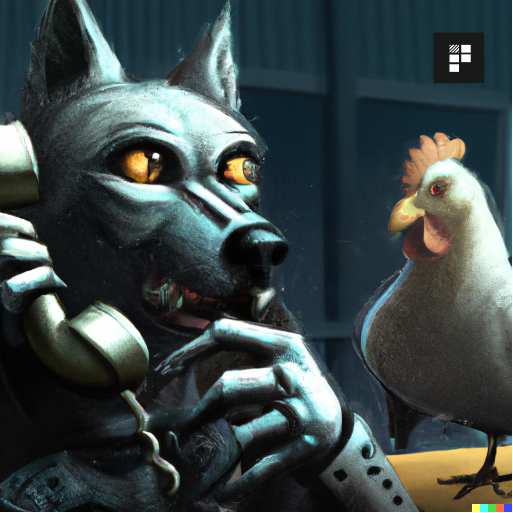 Briefing artwork: An AI powered wolf talking on the phone to a chicken in the style of blade runner
All yours, all free. Enter your email to receive your briefing.
Google Maps' new rival and ChatGPT usage declines. Plus: NYT bans LLMs, a new tool for multi-user collaboration, TikTok shuts off its algorithm