The Department of Product
Briefing
Thursday, 03 November, 2022
Slack's new Threads feature, a new tool for the perfect memory, Uber impresses with earnings, Amazon's principal product manager shares practical frameworks
Thursday, 03 November, 2022

Sponsored by

One CMS, Endless Possibilities
---
Hello product people,
How would you feel if every single interaction you made on your laptop was recorded and transformed into a searchable index for retrieval at a later date? This is the vision of the former CEO of Optimizely who wants to gift humans a 'perfect memory'. And Rewind is the product that's on a mission to do it. This week, the company announced that it had raised $10 million and whilst it might sound a little dystopian, there are some strong use cases for the idea. By keeping a local copy of everything a user does, Rewind allows users to search those interactions meaning that a simple keyword phrase search could draw results from multiple different apps at the same time such as a Google Drive doc, a Zoom call or a Slack chat. It all sounds ominous and intriguing at the same time. And if you're intrigued to find out more, you can check out a demo of it in action here.
Speaking of Slack chats, according to a product and engineering manager at the company, Slack is now rolling out typing indicators to Threads. The feature was available in DMs previously but was missing in thread chats. Whilst some folks welcomed the new feature, some didn't actually realise it was missing in the first place. Slack hopes the addition of live typing will make Threads feel as intimate as personal message interactions.
Meanwhile, earnings season continued this week with Uber reporting a massive 72% jump in revenues. Year on year revenues grew to $8.3 billion, gross bookings were up 26% year on year to $29.1 billion and the trips during the quarter grew 19% year on year to 1.95 billion. This equates to roughly 21 million trips per day on average. Whilst investors welcomed the results, Uber and its rivals continue to face regulatory challenges over the classification of its workers as employees. The US Department of Labor is set to give its ruling on the matter in the coming weeks and with courts in Europe declaring Uber workers as employees it looks likely that the same ruling will apply in the US, too.
Finally, if you're working on setting up a component based design system in your company, this free filterable gallery of design systems should provide you with some inspiration.
Enjoy the rest of your week!
---

Your product briefing
Process – Product development processes you might not have heard of
Scrum with 2 week sprints may work very well in larger corporates, but startups who need to pivot regularly and change direction may not be as well suited to such a fixed process. But what are the alternatives to scrum, you ask? Well, here's 3 different product development processes that modern product teams are using that you may very well have never heard of. (Department of Product)
New product launches – YouTube launches Primetime Channels
YouTube has signed up 35 partners for the launch, from big-name streaming services like Paramount Plus and Epix to niche offerings like The Great Courses and Magnolia Selects. (Another service, NBA League Pass, is coming soon.) Each one will operate essentially like any other YouTube channel, with a curated homepage and a bunch of videos. (The Verge)
Report – How to choose a CMS that's right for you
Product teams often have the resources on hand to create their own CMS. What questions should you consider to decide between creating your custom CMS or choosing a SaaS solution? Define the requirements and make the right decision using this free 25-page guide. (Sponsored) 
Product design – Why everything now looks the same
Across every consumer category, variety and originality have given way to monotony and conformity. A triple threat of economic globalization, generational transition, and new technology has flattened the aesthetics of our digital and physical lives. What are the origins of these regressive trends? Why do they matter? And what can founders, marketers, and creators do to stand out amid a sea of sameness? (Medium)
Case studies – How Instagram improved notification management with machine learning
On Instagram, notifications play an important role in providing efficient communication channels between Instagram and our users. As the types of notifications have increased, a need has arisen to provide people with personalized notification experiences to help avoid them receiving excess notifications or ones they may not find to be important. (Meta engineering)
New product features – WhatsApp launches communities
WhatsApp today is officially launching Communities, the new feature offering larger, more structured discussion groups that first entered into testing earlier this year. Designed to help organizations, clubs, schools, and other private groups better communicate and stay organized, Communities bring a number of new features to the messaging platform, including admin controls, support for sub-groups and announcement groups, 32-person voice and video calls, larger file sharing, emoji reactions, and polls. (TechCrunch)
UX – How to avoid hostile patterns in error messages
Premature error messages, aggressively styled fields, and unnecessarily disruptive system-status messages feel bad-mannered and increase cognitive load for users during otherwise simple tasks. (NN Group)
Newsletters worth reading – Through the Noise
Cut through the noise in startups and tech each week, read by 12,000+ creators, entrepreneurs and investors. (Alex Banks)
Podcast – Amazon's principal PM shares product vision board, experiment tracking docs and more
Aishwarya Murali is principal product manager at Amazon where she builds products to support the ecommerce seller experience. Prior to Amazon, Aishwarya worked as a Technical Product Manager at Expedia and spent time in management roles in Expedia and Dell. (Department of Product)
Strategic analysis – Is the on-demand economy dead?
The delivery boom was catalyzed by the pandemic. At this point, using on-demand apps for delivery, car rides, and other services has become part of modern life. Sure, people aren't going to use grthem for everything, but the tap-to-order is a behavior that isn't going away. (Om)
Graphs to ponder
Product management salaries by global cities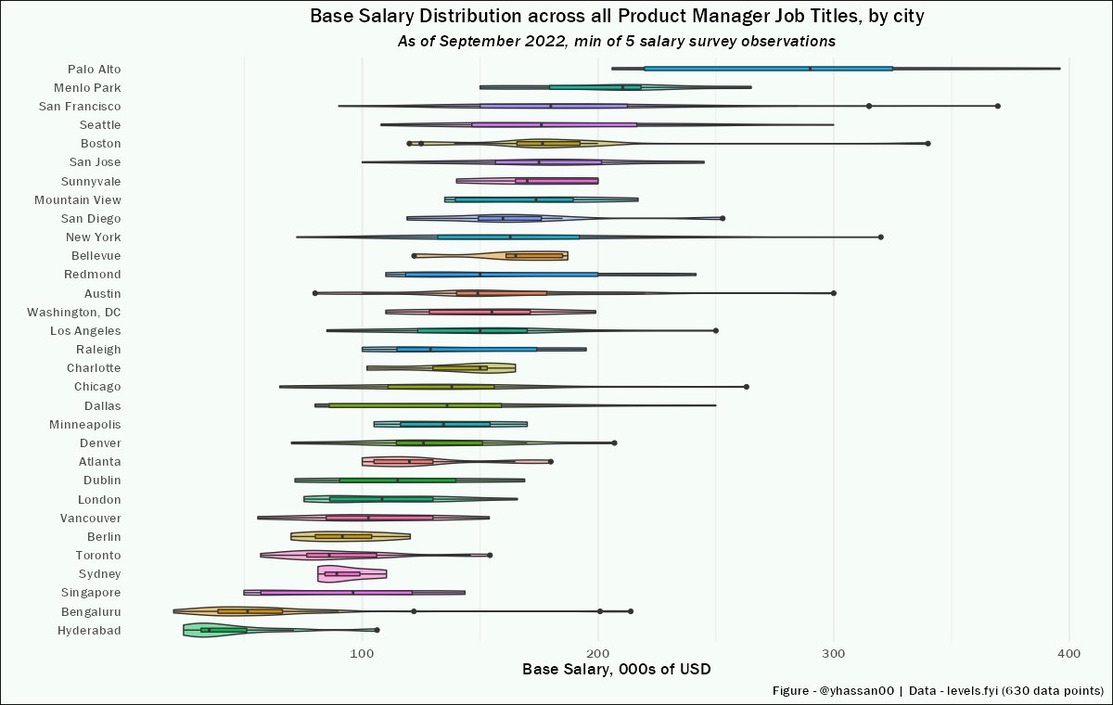 Source (levels.fyi) 
Other product news in brief
---
Featured jobs
A selection of the latest jobs posted on the Department of Product job board.
VP Product, Highline (US / remote)
Highline is a payments startup that helps billers and lenders accept repayments from their customers' payroll. By automating bill payment from income, consumers can get approved for credit more easily and pay down loans faster without worrying about missed payments and overdraft fees. 
Product Lead, Rogo (New York City)
Rogo is a search application for finding, analyzing and visualizing data.
All yours, all free. Enter your email to receive your briefing.
Google Maps' new rival and ChatGPT usage declines. Plus: NYT bans LLMs, a new tool for multi-user collaboration, TikTok shuts off its algorithm