The Department of Product
Briefing
Apple's AR rebellion and Zoom's new feature for the punctually-challenged
Hello product people 👋,
Is there still an appetite for augmented reality? This week, a piece in the New York Times suggested that Apple engineers were voting with their feet and leaving the company for fear that their upcoming AR device will flop. After years in development, the company's long rumoured device will reportedly make its debut some time this year. But those working on it seemed to have lost faith as the product – and the market – has evolved.
It's a curious position for Apple. Rarely the first-movers in an emerging new market, Apple has a history of stepping back to let competitors take a stab at a new market – and then feasting on their failure by launching something that's truly differentiated. Apple has a similar market mover advantage here: Meta, Microsoft, Magic Leap and a bunch of others have tried their best, but have so far either pivoted to enterprise (Magic Leap), failed (Hololens) or desperately slashed prices (Meta) to stimulate sales. What seems to be different for Apple this time though, is that Apple's own employees aren't convinced that what it has to offer is differentiated enough for it to put its competitors to shame as it's previously done with phones and watches.
Despite the rebellion, CEO Tim Cook is said to be determined to launch the device, rumoured to cost around $3,500, later this year.
In other product developments this week, Microsoft Teams and Zoom unveiled a fresh range of updates. After making light work of destroying Slack, Teams celebrated its dominance with a glow-up which includes an overhaul of its UI. The new design emphasises simplicity and includes the removal of cluttered buttons and a simplified chat compose box. A blog post by the company's president of apps, Jeff Teper, shares the north star the product team at Microsoft works towards: 'twice as fast while using half the system resources'. You can check out a video of how it does that in practice here.
Zoom, meanwhile, has doubled down on its genAI efforts with the launch of new capabilities for Zoom IQ. These include a new feature designed for those of us with punctuality issues; if someone joins a meeting late, IQ can provide a quick summary of what's happened so far without disrupting the flow of the meeting. 
Finally, if you find yourself constantly distracted, this alternative browser that optimises productivity could help.
Enjoy the rest of your week!
---
UX case studies – The psychology behind Loom's explosive growth
Users tend to stick to default settings. This default speed of 1.2x combined with the 4-min anchor is brilliant: it's quick enough to save precious minutes while not being too fast. This subtle cue increases the odds of starting the sender's video. 
Services you can use – QA Wolf – zero-effort automated QA
Bugs are a fact of life, but your customers shouldn't be the ones to find them. QA Wolf gets you to 80% automated end-to-end test coverage in 4 months so bugs don't sneak into production. (Sponsored)
New AI Tools
Practice your interview skills with AI-led mock interviews

Speed up your Google Sheets with Numerous – a new plugin for Excel and GSheets

Automagically generate action items for things like team sprints, design reviews and product interviews with Vowel's new tool
30 minute skillsets – Databases and SQL
As a non-engineer, getting to grips with technical concepts can be difficult. Here's some a free curated guides to get you up to speed with databases and SQL in just 30 minutes:
Strategy skills – How to calculate total addressable market (TAM)
The size of the TAM ultimately determines how much revenue a company can capture over time. A company can't "outgrow" its TAM, but rather will end up capturing some fraction (market share) of the TAM. (Mostly metrics)
Tweets worth watching
How ChatGPT's new plugins can help you organise a trip to Florence and a visit to a Michelin starred restaurant:
let me show you the power of
@OpenAI
#chatGPT
plugins. You can easily plan a trip to Florence, Italy all in chatGPT with real time weather, hotel, travel and cuisine data and translate it all to Italian and order recipe ingredients to try to cuisine out locally before you go!
Analysis – A brutal take on the current state of Google and its internal process
Google has unarguably antiquated internal processes. It is almost as though the company is stuck in a time warp from two decades ago, with waterfall planning processes. If all the senior managers in a team spend one month in every six planning, and one month goes on vacation and one month goes doing performance reviews, there's suddenly just about enough time to do a reorg and change in strategy once a year, right?
Nothing gets done, no problem, no risk — hand out the promos and bonuses and keep going. (Medium)
Company-wide agents will empower employees in new ways. An agent that understands a particular company will be available for its employees to consult directly and should be part of every meeting so it can answer questions. It can be told to be passive or encouraged to speak up if it has some insight. It will need access to the sales, support, finance, product schedules, and text related to the company. It should read news related to the industry the company is in. I believe that the result will be that employees will become more productive.

Bill Gates in his recent piece on why the Age of AI has begun
---
New product features, launches and announcements this week
Microsoft unveils Security Copilot – a new feature that's similar to Bing Copilot but with an LLM trained heavily towards network security.
Spotify unveils niche mixes – a new feature that allows users to prompt Spotify to create an algorithmically generated mix for any mood or genre.
Google adds a new 'perspectives' feature – a carousel that appears below top stories to showcase insights from a range of journalists. In a post by Google's product manager Itamar Snir, the company outlines how the feature works – and how it coincides with a little known date in the tech calendar – 'Fact-Checking Day' on April 2.
ChatGPT launches plugins from companies including Expedia, Instacart, OpenTable and more.
Apple's Pay Later starts to roll out across a chosen few US states. The new feature allows users to apply for loans from $50 to $1000 for online purchases.
---
Insights and trends to stay informed
Total music revenues are now higher than 1999 with the vast majority of revenues derived from streaming. Downloads peaked in 2012 but have since shrunk to $0.9 billion.
ByteDance is secretly celebrating a sleeper hit on the app charts – and it's not TikTok. Lemon8 is an Instagram rival that most people had never heard of until last week. Now? It's ranking inside the top ten in the US app charts.
Bumble downloads are up 30% as the app beats Tinder for the first time. 
Mental health is the fastest growing marketplace category according to Andreessen Horowitz's annual Marketplace 100 report. 
The era of unboxing is over. The internet has decided it wants packing videos instead. The hashtag #packingorders has over 9 billion views on TikTok.
Global consumer spending on mobile apps is set to hit $33.9 billion in Q1 2023. Apple's App store accounts for 65% of total revenues and 71% of non-gaming apps.
---
🧠💻 Upcoming live programs
Each year, we work with instructors from top companies including Square, PayPal, Amazon, Atlassian, Netflix and more to offer you live learning experiences. 
Mastering Product Strategy  – Differentiation, pricing, monetization, innovation, audience segmentation… just a few of the topics participants will be deep diving into during the Product Strategy Program. 
No fluff. Just practical tools, frameworks and case studies from Amazon's Director of Product to help you build a winning product.
👋 a big shout out to everyone joining the upcoming program. If you're interested in taking part, admissions are open but officially close next week – Thursday, 6th April.
---
Other industry news in brief
Lyft's co-founder Logan Green is stepping down as CEO after more than a decade. Green will be replaced by Amazon's first head of product, David Risher.
Snap exec and head of growth Jacob Andreou heads to Greylock capital
Alibaba's CEO Jack Ma has been spotted in China after a long absence.
Grammarly appoints global head of product Rahul Roy-Chowdhury as its CEO. 
---
Looking for other newsletters to keep your tech brain well fed? Here's what we like to read:
Financial concepts clearly explained in plain English.
No waffle, no degree in accounting required.
Delivered to your inbox once a week.
Learn how to leverage AI to boost your productivity and accelerate your career. Join 60k+ readers who work at companies like Apple, Amazon and Google.
---
If you're a Substack user, you can add Department of Product to your reading profile to let others know that you're up to date with the latest product developments.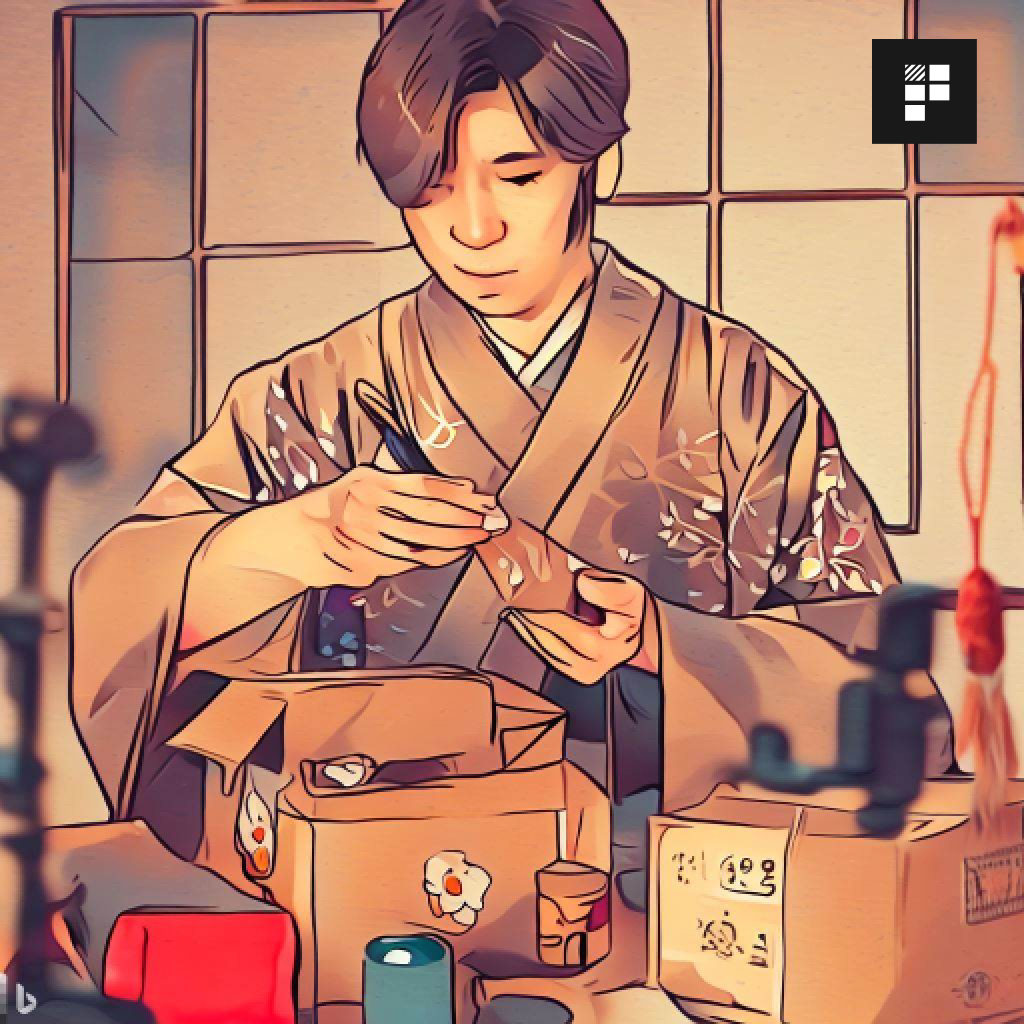 Prompt: a person carefully packing items into a parcel whilst they record themselves in a TikTok live stream in a traditional Japanese ukiyo-e art style
All yours, all free. Enter your email to receive your briefing.
Google Meet's 360 backgrounds, Twilio and Coinbase earnings, new emojis are on the way, a new way to do presentations and AI tools to help you boost your productivity