The Department of Product
Briefing
Klarna's path to profitability, voice changing tech, a new product to summarize your Slack conversations and Spotify's new button
Hello product people,
If you sometimes dread the prospect of opening up your laptop to a bunch of notifications from Slack, Jira, Microsoft Teams, Office and Google 365, a new startup we discovered this week is hoping to help. Spoke works as an aggregation layer for all of these tools by summarizing the important bits you need to know. Dubbed as the 'OS for tomorrow's teams', the new product promises to aggregate, prioritise and summarise across all of your tools to help you get to grips with your to dos. Spoke is currently in an early beta but you can request access here.
Other new products which caught our eye this week include a voice changing startup called Voicemod. Hoping to ride the wave of the generative AI boom, the product uses technology which allows users to transform their voice into a variety of alternatives, including Morgan Freeman. The company recently announced a $14.5 million funding following an initial $8 million Series A back in summer 2020. Voicemod's CEO Jamie Bosch shared that whilst they're speaking to investors and potential customers, the most often question they get asked is: is this your real voice? And if the next wave of generative AI voice changers manage to capture a large enough market, this seems like a perfectly legitimate question we'll need to get more comfortable asking.
But voice changers weren't the only source of controversy in generative AI products this week. A new startup called Galileo allows users to generate Figma designs of UIs including login screens, dashboards and reset password journeys – all from one prompt. Some designers were understandably outraged at the idea that thoughtful designs could be reduced to generic, prompt driven outputs, but it does make us wonder whether the future of design could eventually be prompt driven – particularly for generic screens such as login and sign up which tend to get repurposed a lot anyway, or for early prototypes.
Earnings reports continued for some major tech companies this week and it was a mixed picture for privately held buy now pay later startup Klarna.  Losses at the company narrowed to $1 billion and the value of goods purchased through Klarna was up 22%. Product highlights showcased in their annual earnings deck include the launch of a new virtual shopping experience, in-app financial management tools for US consumers and an 'unbiased search tool' which compares thousands of websites to help users find the best deal. The company is eyeing a path to profitability after a major cost cutting push last year.
Finally, as consumer social tech companies consider the introduction of paid memberships and paywalls, if you're considering introducing a paywall of your own, this selection of filterable paywall screens might help. 
Enjoy the rest of your week!
---

Your product briefing
Strategy – How products die
Whenever a new technology paradigm emerges, 99% of people call it crazy and the 1% of weirdos known as founders see it as a business opportunity. Usually any time a scientific discovery occurs or a new market unlocks, a small but ferocious group of entrepreneurs will lock horns and battle for supremacy. Facebook was far from the first social media site (remember Myspace and Friendster?). These battles are only partially decided by scientific advantage—things like firm culture, business strategy, and execution make up the difference more often than not. (Every)
Tweets worth reading
Venture capitalist Turner Novak on Spotify's new home page app design:
Spotify is redesigning its app to create a TikTok-like feed.

Here's why it will go down as one the biggest new product announcements this year:

— Turner Novak ?? (@TurnerNovak) February 24, 2023
Webinar recap – Comms led product growth
This week, we spoke to Sendbird's Emmanuel Delorme about new comms tech and how this can be used in your own product. 
We covered:
​How to make use of new comms technologies including live video streams, large scale group chats and live events to drive growth

​Practical case studies

Product process: how you can apply new comms tech in your product
The recording is now available and you can watch it and grab the materials including the deck and the Figjam workshop templates.
(Department of Product & Sendbird)
Skills – How to use Figma to create better presentations
I start with a section title slide, work my way across that row to tell the story of that section, then bump down to a new row when I'm ready to start the next section. In the case of very long sections, I tend to break out extra rows based on thematic groups. (UX Design)
New tools you can use – June – analytics optimised for product people
An alternative to Google Analytics that is optimised around product-centric thinking including product activation, feature usage and north star metrics. (Product Hunt)
Product monetization – How does Roblox make money?
Roblox's revenues for 2022 were $2.2 billion. Some argue that Roblox may eventually go the same way as Angry Birds or Second Life and become a ghost town. But for the time being at least, it's an unstoppable cash cow. How does Roblox make money? Let's dig in. (Twitter)
UX – 3 alternatives to infinite scrolling
Infinite scrolling can create great user experiences, but it also has weaknesses. Consider 3 alternative design patterns that may work better for your product: A load-more button, integrated pagination within a long scroll, and traditional pages. (NN Group)
Technical explainers – What is encryption?
You may not realize it, but encryption is everywhere, from sending a text, to using an ATM or buying something online. And it's been around for a while (dating back to 600 BC!). Julius Caesar devised his own encryption scheme by shifting letters: A becomes D, B becomes E etc.  (Technically Substack)
---
Freshly shipped this week

Spotify unveiled a new AI-powered DJ experience and is currently rolling out a new TikTok-inspired timeline that improves discovery. It also killed the heart button and replaced it with a 'plus' sign.
Uber released an update which puts all its services on one screen.
Reddit users can now search comments within a Reddit post – on mobile and desktop.
Amazon added 3 new missing features to Kindle Scribe: brush types, subfolders and simplified page navigation. 
---
Product insights and trends to stay informed
How major tech companies have fared since going public in 2020 / 2021:
40% of adults in the US now use a health app. Those who do use one, half of them use it daily.
95% of workplace frustration is driven by miscommunication. A framework for understanding personality types and communication styles.
More than a quarter (28%) of a16z's fintech investments in 2022 went to payment startups.
Instacart's revenue increased more than 50% in the fourth quarter, with profit margins growing 80%, according to the Wall Street Journal.
---
Other product news in brief
Meta has unveiled its AR / VR hardware product roadmap for the next four years. The internal presentation reveals plans for three new Quest headsets, AR glasses in 2027 and a neural interface smartwatch.
Twitter announced a fresh round of layoffs which includes product manager Esther Crawford who famously slept in the office.
Lauryn Isford joins Notion as Head of Product growth from Airtable.
LinkedIn has outlined its responsible AI principles which include a commitment to uphold trust, provide transparency and promote fairness and inclusion. 
Twitch has created a transparent experiments hub page for users to help them understand what experiments are being run each month.
---
Recommended newsletters
Looking for additional newsletters to keep your product brain well fed? Here's what we read every week:
One financial concept for tech workers explained simply and clearly. Delivered to your inbox every week. (Substack)
Carefully curated digital marketing news, tech, and actionable advice, delivered fresh every weekday. Consumed in 7 minutes or less.
Join 300,000+ professionals and get the data, anecdotes and visuals you need to understand today's world and take your office small talk to the next level.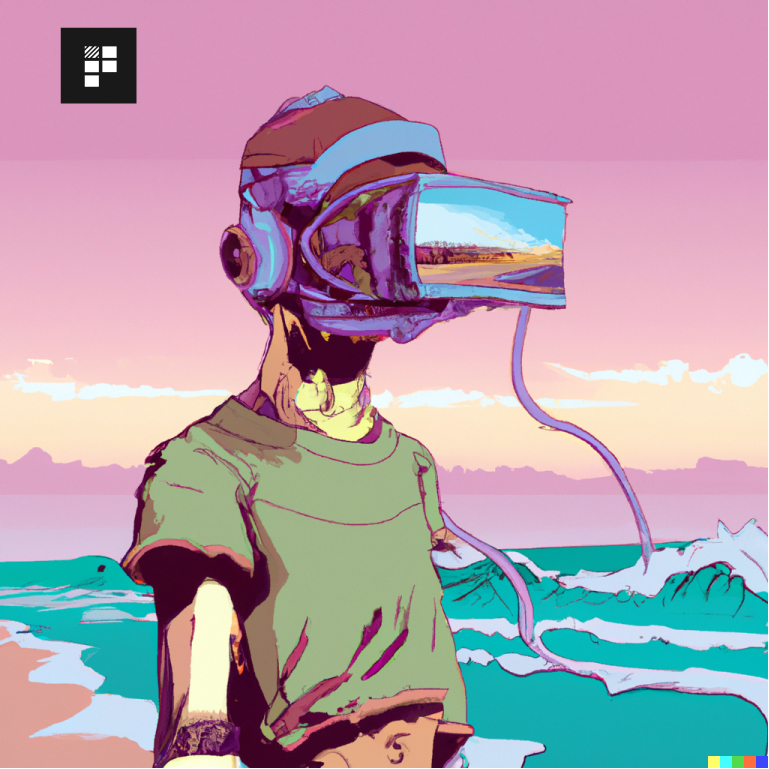 Briefing artwork: A person wearing a VR headset on a beach in the style of a cryptopunk nft
All yours, all free. Enter your email to receive your briefing.
Google Maps' new rival and ChatGPT usage declines. Plus: NYT bans LLMs, a new tool for multi-user collaboration, TikTok shuts off its algorithm