The Department of Product
Briefing
Thursday, 02 February, 2023
How Coinbase builds products, ChatGPT for product research, Spotify and Snap's earnings, a new radio station newsletter hybrid to help you focus
Hello product people,
Despite the recent spate of tech layoffs, the next generation of tech workers are demanding more from their employers. According to new research, Gen-Z are far more likely to demand salary transparency, both before and after taking a new job. Now, a new product promises to help both employers and employees navigate their finances. Finday offers employees salary benchmarking, paycheck translation and live one-on-one sessions with a financial coach – for free. Paid for by employers as a perk, the company is hoping to grab a slice of the lucrative corporate wellness market, which is estimated to grow into a $109 billion industry by 2030. The company is currently in a closed beta and you can join the waitlist here.
Meanwhile, another product piquing our interest this week is Kraftful. Pitched as 'ChatGPT for product research', the company is hoping to ride the AI wave by saving product teams hundreds of hours that are currently spent wading through user feedback. A YCombinator graduate, the new startup uses feedback analysis, user sentiment tracking and competitive benchmarking to help product teams synthesise and contextualise user research quickly.
Earnings season continued this week with major product companies sharing their latest results. First up, Spotify posted an impressive earnings which saw the company become the first music streaming platform to surpass 200 million paid subscribers. The company added 33 million monthly active users and grew its premium subscriber base to 205 million, 3 million above guidance. Operating losses grew to a massive $250 million but this was below the guidance of $325 million that was previously issued. Investors seemed pleased, with the stock surging 18% following the report.
Investors weren't too pleased with Snap's update, though. The company posted similar losses of $288 million but its revenues grew just 0.1% year on year, its lowest quarterly growth as a public company. The Snapchat user base did continue to grow though, with average daily active users up 12 million to 375 million. Product highlights showcased in the earnings included the impact Snap's augmented reality (AR) features can have on the returns rate for ecommerce businesses and 'Snap Map' which grew over 100% quarter on quarter.
Finally, if you struggle to get into a deep flow state whilst listening to music with lyrics, this new radio station newsletter hybrid is designed specifically for those moments when you want to knuckle down.
Enjoy the rest of your week!
---

Your product briefing
Podcast – How Coinbase does product management
Coinbase's product manager Justin Blumenthal, speaks to the Department of Product to share how product works at the company. Justin's product stack for product development and decision making consists of frameworks, tools and essential templates including:
Problem / Proposed Solution (PPS) template

RAPID (Recommend / Agree / Perform / Input / Decide) template

User feedback tools including usertesting.com 
Justin Blumenthal is product manager at Coinbase where he leads P2P crypto payments and the Coinbase Card. 
During his time at Coinbase, Justin launched new features including multichain send and receive. Prior to Coinbase, Justin was Lead PM at Square, leading the development efforts for Square Reader for Contactless and Chip and the Square Reader for Magstripe.
(Department of Product)
Tweets worth reading
Andressen Horowitz investor Olivia Moore explores the initial user reviews to mega products including Instagram, Spotify, WhatsApp, Snapchat and more:
I love tracing consumer apps that are now huge back to the very first Reddit post about them.

It's an unvarnished look at the original "wedge" – and the level of doubt every new product is up against.

Some gems ⬇️

— Olivia Moore (@omooretweets) January 19, 2023
Career guides – The product manager learning path
If you're new to Product Management, you can spend a few months learning about the Fundamentals to improve your qualification for the role. Then look for an entry-level role where you can practice your Product Management skills. If you're already in a Product Management or related role, you can use the Learning Path to identify topics you want to practice. For example, if you're in a delivery-focused Product Owner role, you might look for opportunities within your team to contribute to the product strategy, or kick off a Product Discovery initiative with your team. (Product Crunch)
New product launches – Dockhunt
Get inspired by other people's docks. Dockhunt allows you to view the docks of other users and share your own so that you can discover new apps.
UX – UX stakeholder engagement 101
Stakeholders' buy-in and support is an integral component of success for any UX project, as they translate into resources, bandwidth, and approval. However, navigating stakeholder dynamics requires a thoughtful mix of listening, collaboration, communication, influence, and negotiation. This balancing act leads to stakeholder engagement and ultimately creates successful, long-term relationships. (NN Group)
Tools – AI voices for your product marketing materials
The most realistic and versatile AI speech software, ever. Eleven brings the most compelling, rich and lifelike voices to creators and publishers seeking the ultimate tools for storytelling. (Eleven Labs)
New product features – Uber Eats introduces new "View as Delivery Person" feature
Uber Eats is introducing a new feature that shows users how much of their personal information is shared with their delivery person when they place an order on the app. The feature, which is called "View as Delivery Person," is designed to add a level of transparency when ordering food via the app. (TechCrunch)
Process – How to nurture a culture of documentation in remote product teams 
If you've discovered something cool that makes your day easier, please share it with your entire organization. These little gems of knowledge can seriously save you time and effort. It could be a simple shortcut that helps with faster processing or the exact steps required to set up something new. This type of documentation should be kept in an easily accessible place, so everyone who needs it can find it quickly. (Remote Work)
Skills – Visual design skills you can use on every product
Here are some visual design rules you can learn once and use many times in your career. They're safe. (UX Design Weekly)
Other product news in brief
Meta is killing Move – an in-house social app from its experimental NPE team.
Roblox has hired former Google Play VP Tian Lim to lead the product team for its creator group, the internal division of the company focused on user-crafted games and experiences.
Instagram launches its new 'Notes' feature worldwide, expanding to Europe and Japan. The notes feature gives users the option to post about their current mood.
Google built a model that can generate music from text.
Shopify's VP of Product is leaving the company.
---
Data points and trends to monitor
One in five teens say they are using YouTube 'almost constantly':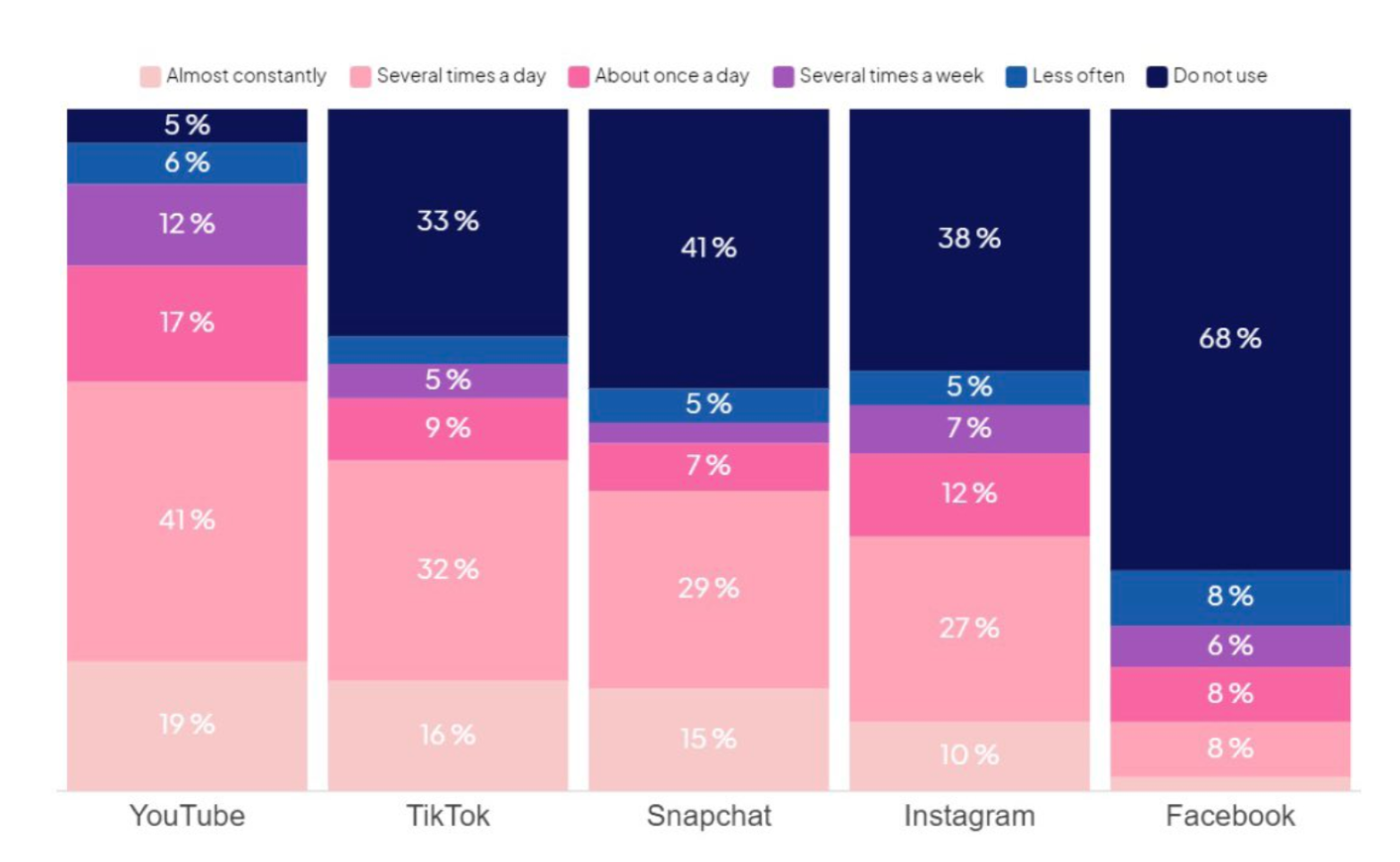 Source: Pew Research
Global ecommerce sales are projected to grow to $8.1 trillion by 2026 in new analysis by Shopify.
According to the Wall Street Journal, less than half of smart appliance owners actually bother to connect them to the internet.
Pre-orders for Sony's VR headsets are significantly below expectations, raising fears that the industry is flatlining.
---
Recommended newsletters
Looking for additional newsletters to keep your product brain well fed? Here's what we read every week:
We share the top strategies and tactics used by fast-growing startups. For free. Once a week. Trusted by over 67,553 founders and marketers at startups. 
Join 300,000+ professionals and get the data, anecdotes and visuals you need to understand today's world and take your office small talk to the next level.
The Daily Upside is a business newsletter that provides expert analysis of the world's most important headlines.
All yours, all free. Enter your email to receive your briefing.
Google Maps' new rival and ChatGPT usage declines. Plus: NYT bans LLMs, a new tool for multi-user collaboration, TikTok shuts off its algorithm