The Department of Product
Briefing
Apple's new Music app, GPT-4 and the end of NFTs? Plus: GitLab earnings disappoint, Grammarly gets new AI writing capabilities and Meta employees share their experiences.
Hello product people ?,
 
The folks at OpenAI were busy this week as they finally unveiled the latest iteration of GPT with the launch of GPT-4. The next iteration is said to include 500x the parameters of GPT-3 and can handle tasks such as creating a website using a napkin sketch, coding an entire game from scratch, interpreting images and passing pretty much every professional exam.
 
As a result, product teams around the world are scrambling to flex their AI prowess by announcing GPT-infused versions of their products. This week alone saw Intercom, Reddit and Microsoft all announce new features or products that leverage the technology.
 
But one product applying the latest iteration in a creative way worth mentioning is Duolingo. This week, the company announced the launch of a new 'Max' subscription tier which includes a GPT-4 enabled chatbot that users can chat to to practise their language skills. The feature guides users through different scenarios, such as ordering a coffee or planning future vacations and after a user is finished, they'll be sent feedback on the accuracy and complexity of their responses, as well as tips for future conversations.
 
Not to be outdone, Google set out its stall too this week, by announcing a bunch of GenAI updates of its own. Whilst these features look impressive, it does feel a little like Google is playing catch up. And the company reportedly knows this. Reports this week suggested that a code red meeting was held in December to figure out how it plans to defend itself from the very real – and potentially existential – threat posed by OpenAI's technology to its search business.
 
Meanwhile, GitLab earnings caused the company's share price to plunge as much as 38% earlier this week. The code repo platform posted revenues of $122.9 million vs analyst expectations of $119 million. Despite the increase in revenues and shrinking losses, investors seemed concerned about the company's guidance which sees it growing revenues to $529 million, short of Wall Street's estimates.
 
Finally, if you're working on a new iteration of your product and want some inspiration, this vast collection of filterable designs from top product-led tech companies should help.
 
Enjoy the rest of your week!
---

Your product briefing
Interview – Spotify's chief product and technology officer on the company's new design
Gustav Söderström has worked at Spotify for a long time; his first big project was leading the launch of its mobile app back in 2009. That makes him the perfect company leader to talk to about Spotify's recent redesign, which introduces a visual, TikTok-like feed for discovering new content on the app's homepage. As his boss, CEO Daniel Ek, put it last week, it's "the biggest change Spotify has undergone since we introduced mobile." (The Verge)
Strategy – How does Discord make money?
Discord's Fortnite server alone has 571,000 members. Following the Salesforcification of Slack and its outright battering by Microsoft's Teams, it is now seen as the hip place to host online communities. But how does Discord make money? 
Tweets worth reading
Lenny shares a long list of growth tactics 
Here's a long list of growth ideas.

Get your team together and go through this list with the mindset of "How might we…"

— Lenny Rachitsky (@lennysan) March 14, 2023
UX – Understanding the anatomy of good product design
Visually pleasing designs use consistent type styles and spacing, create a visual hierarchy, and utilize an underlying grid structure. (NN Group)
Tools you can use – Relume –  Generate real copy inside figma
This new tool allows you to generate website copy quickly and easily using AI, all without leaving Figma. 
Technical explainers – What is Javascript? A beginner's guide
Javascript accounts for about 98% of client-side(Frontend) logic for websites worldwide. This is simply because it plays the role of "Frontend brain" almost perfectly, working alongside HTML (website markup) and CSS for styling to produce dynamic sites and Improve user experience. Modern websites have something called the DOM (Document Object Model). (Hackernoon)
Newsletters worth reading – Superhuman
How to use AI to boost your productivity and accelerate your career. Free every week. (Recommendation)
---
Freshly shipped this week
Apple is launching a standalone classical Music app called Apple Music Classical on March 28. Apple sees classical music as a distinct product category, as it does podcasts. As Spotify attempts to bundle everything into one app (including its new Gen Z video dopamine blobs), it's interesting to see a strategic difference emerge between Spotify and Apple.
Grammarly is getting ChatGPT-d.  GrammarlyGo is the company's new suite of genAI writing capabilities.
YouTube has launched early access to a new multiview feature which allows users to view four streams at once. Whilst the initial use case may seem a little odd, the company says the new feature re-purposes existing technology built for live streaming – and that this could be used in the future to allow creators to add commentary to video.
Coinbase announces a wallet-as-a-service product to simplify web3 onboarding. The new service will enable onboarding web3 users across gaming, token-gated events and digital marketplaces
Privacy-oriented search engine DuckDuckGo has launched a beta of its new summarization tool known as DuckAssist.
---
Product insights and trends to stay informed
Office occupancy levels are stuck at 50.4% their 2020 levels: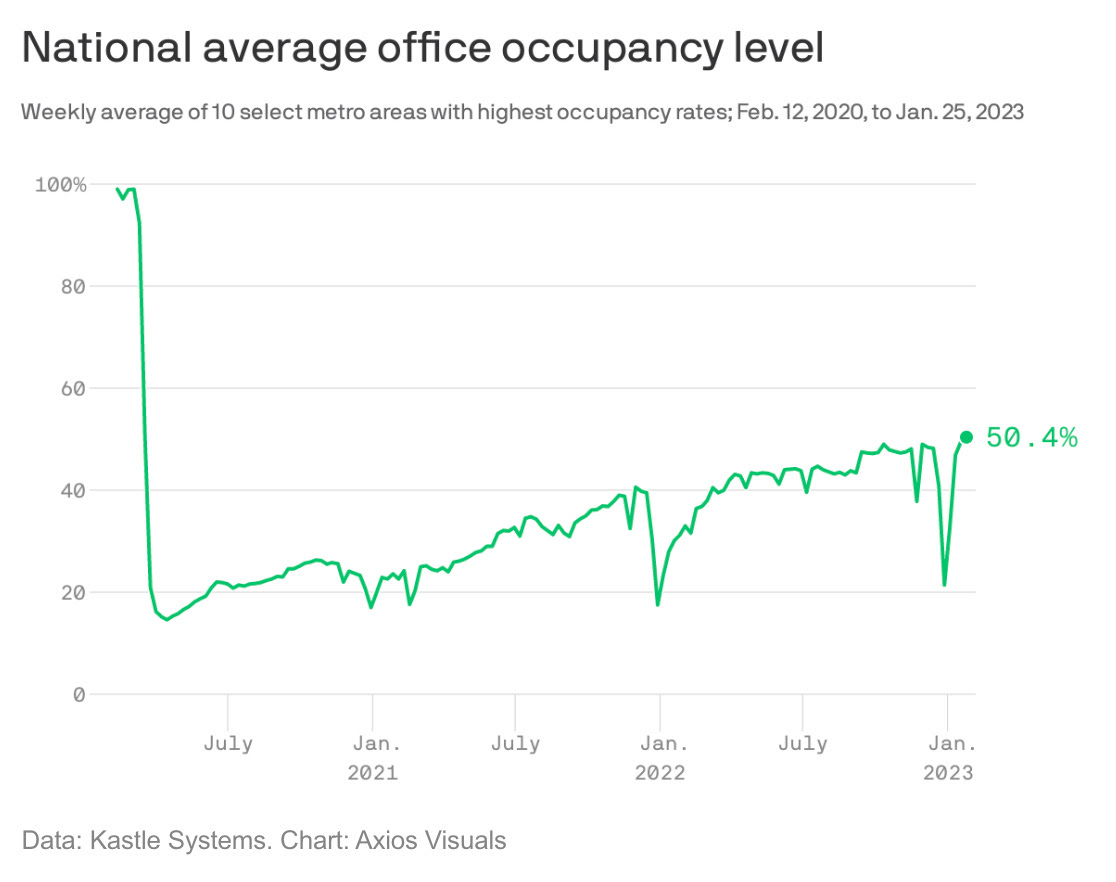 38% of customers make a purchase and 50% were influenced to purchase a product after receiving a WhatsApp message or SMS message promoting it.
By 2026, the average paid video streaming subscriber will have a total of 6.3 subscriptions, according to new analysis by Activate.
92% of UK companies who tested a 4 day week decided to adopt it permanently.
The end of NFTs? Instagram is ditching them after less than a year.
? Understanding the trend inflection point
When does a trend matter enough for your business to take decisive action?
Questions to ask yourself
Domain space

– is my domain space impacted by this trend – or could it be in the future?

Impact existing customers

– are my existing customers likely to be impacted by this new trend in any way? Does it make them more likely to demand the new trend or switch to a competitor?

Loss of potential future customers

– is my product losing potential future customers by not adapting to this trend?

Competitive threats

– are competitors adapting to this trend and benefiting from it as a result?

Proactive pre-mortem

– using the pre-mortem framework, as yourself what would happen if we

didn't

adapt to this trend?
Learn how to adapt your business to new trends in the upcoming Product Strategy program – a dynamic new, 3 week experience, led by Audible and Amazon's Director of Product and designed to help you sharpen your strategic thinking. 
---
Other product news in brief
As it announces a fresh round of layoffs, a former Meta employee shares her experience of being paid to do nothing and being hoarded 'like a Pokemon card'
Soundcloud names Eliah Seton as its new CEO.
Reddit is sunsetting its live audio chats Clubhouse clone on March 21st.
Clubhouse has let go over 20 leaders in the past year, including notable hires from TikTok, Netflix, Spotify and Google.
TuSimple's co-founder resigns after being accused of poaching staff for a new venture.
---
Recommended newsletters
Looking for additional newsletters to keep your product brain well fed? Here's what we read every week:
One financial concept for tech workers explained simply and clearly. Delivered to your inbox every week. (Substack)
Carefully curated digital marketing news, tech, and actionable advice, delivered fresh every weekday. Consumed in 7 minutes or less.
Join 300,000+ professionals and get the data, anecdotes and visuals you need to understand today's world and take your office small talk to the next level.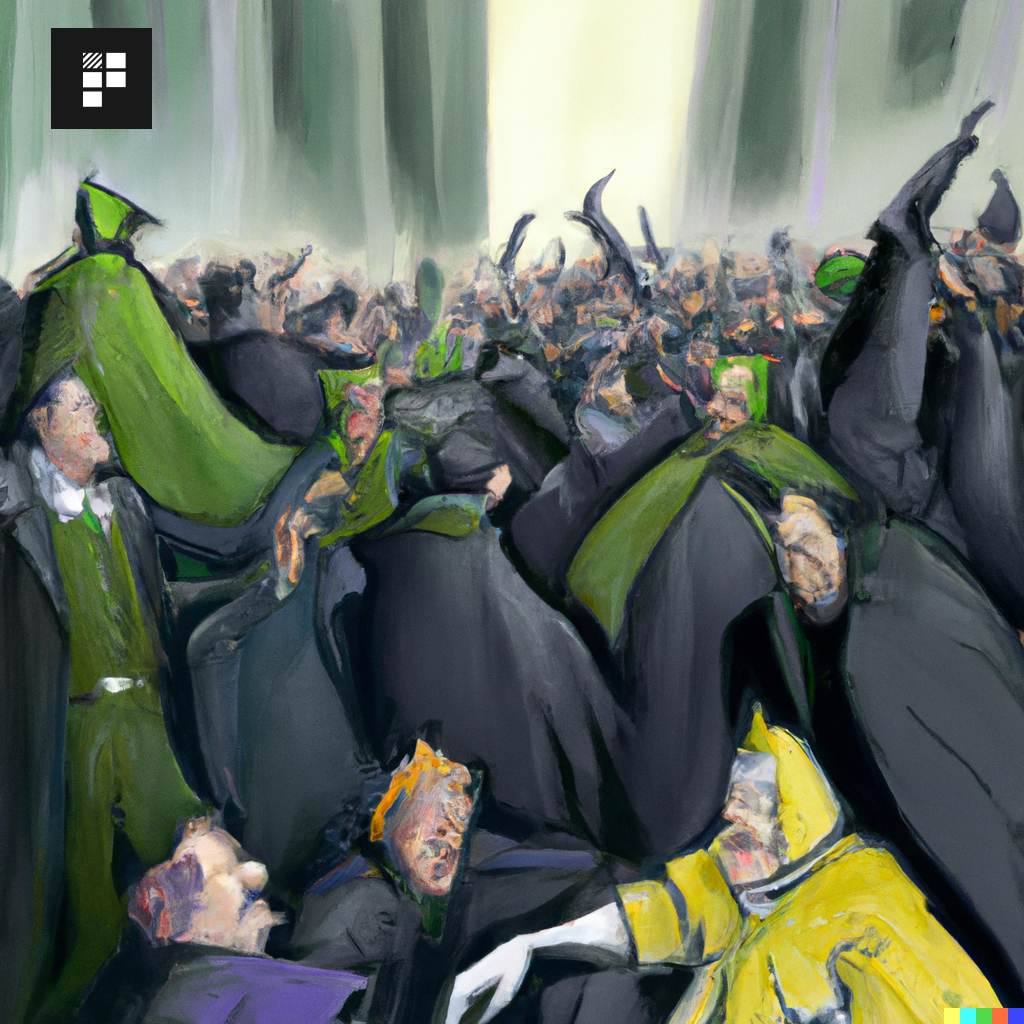 Briefing artwork: A painting of venture capitalist bankers panicking after everyone withdrew their money at the same time causing chaos in the style of a gothic batman movie
All yours, all free. Enter your email to receive your briefing.
Google Maps' new rival and ChatGPT usage declines. Plus: NYT bans LLMs, a new tool for multi-user collaboration, TikTok shuts off its algorithm