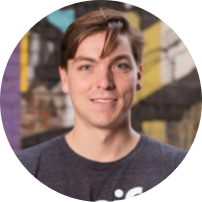 Sean Jackson
Director of Product, Audible

Sean Jackson has been building digital products for a decade. Currently, he leads the Web Platform at Audible. Prior to Audible, Sean spent 8 years in the startup world where he founded and led early-stage ventures in GovTech and Enterprise Collaboration in Detroit.
He's most proud of working to build MotorCityMapping a tool to help the City of Detroit understand and eliminate vacant and blighted properties during its 2013 bankruptcy. Sean came into tech sideways after spending eight years in the US Marines working on disaster response and governance development in places like the Arctic Circle, Haiti, the Philippians, and Afghanistan.
In his personal life, Sean enjoys camping with his partner and their three year-old, running, LEGOs, and trying to get his Miata into track shape.

Sean's full experience
Alongside his role as Director of Product at Audible, Sean has experience working at the following companies:

Ready to start learning?
Learn from Sean and our other product instructors by joining one of our upcoming programs. Request a syllabus to find out more or register now.