Web Technologies for Product Managers
Understand what your engineers are talking about


You sometimes have no idea what your engineering team are talking about in stand-ups but feel embarrassed to ask questions so stay silent and hope that whatever they were talking about doesn't impact the product further down the line.
You struggle to understand the difference between HTML, CSS, Javascript, Ruby on Rails and other coding languages. It's bewildering and confusing and you're often considered the 'technical person' in your company when speaking to stakeholders.
You'd like to be more confident about the basic processes involved in web development so you can relay some of the challenges back to the wider business when projects take longer than they would like.
You're unsure which languages are backend and which are front end and would love someone to explain the differences in an easy to understand way. What is the true difference between backend and front end development and what does integration testing mean?
You hear the words 'jenkins' and 'continuous integration' and nod along without fully understanding what on earth your engineering team are talking about.
You don't want to learn how to code yourself; you'd just like to have an overview of the basic differences between the languages so you can understand some of the conversations and trade offs involved in development work.

Sound familiar? No worries.
Getting to grips with technical concepts doesn't mean becoming an engineer.
It's possible to learn about code, not how to code.
Web technologies explained
for product managers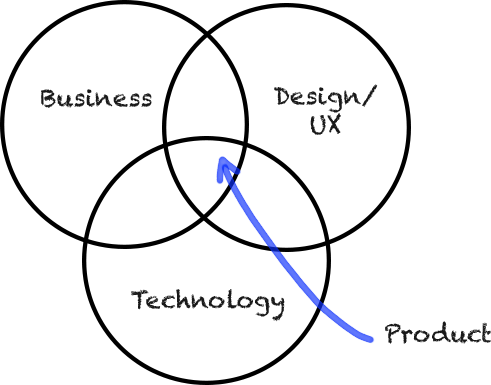 As a product manager, you're not expected to be able to write code yourself but you are expected to have an understanding of technology. That puts you in a tricky position where the rest of the business refers to you as the 'techie' or the IT person but your engineers can sometimes treat you like a non-technical outsider.
Make sense of BDD, TDD, Jenkins
You will have a deeper understanding of the whole end to end process, including continuous integration tools and the process of deployment so that you understand terms like jenkins, cucumber, Github, automated testing, BDD and TDD.
Speak with confidence
Get the confidence to speak with your stakeholders about web development technologies in a fluid and concise way so that they understand why projects may take longer than expected. Your job is to have a broad understanding of technology and distill that into easy to understand nuggets of information.We'll teach you how to do it.
Learn about code, not how to become a programmer
We will help you to understand the bewildering world of HTML, CSS, Javascript, Ruby on Rails and other web development technologies so that you understand the fundamentals involved in bringing your product ideas to life.
Understand the full stack
You will get a broad understanding of web development fundamentals and coding languages so that you can engage with your engineering team with more confidence. You won't be an engineer; you'll be a product manager who knows more about technology.
Want to find out more?
OK, let's get acquainted. Pick one of the options below to get started.
For product managers who love to learn
Our 8 week intensive program is designed to help you understand the full stack so that you can speak to your stakeholders and engineering team with more confidence. You won't be an engineer; you'll be a product manager with a deeper understanding of web technologies.
Web fundamentals
We explore the nature of the web and the technologies that drive our modern web experiences. We'll start with the basics and lay the foundations for the rest of the program.
Understand servers and clients
What's a server? What's a client? How does a server 'serve' content to clients and why do you hear engineers talk about server side vs. client side technologies? You'll find out.
Front end coding languages
Web development is broadly categorised into front end and backend. We'll be deep diving into front end technologies and you will create your first interactive web pages.
Backend coding languages
After exploring front end web development we'll delve into the bewildering world of back end coding languages. We'll look at the most common patterns across all the key languages including Ruby on Rails, Python, Java and more. You'll understand the role they play in creating a fully functioning web application.
Databases
Databases are used to store data in web applications and most of the world's websites will use some databases to store and retrieve data. You will build your own SQL queries to retrieve the data you need to make better product decisions.
APIs
APIs provide a way for 2 systems to communicate with each other. You'll find out what the anatomy of an API is, why they are powerful for product managers to harness and what the most useful aspects of APIs to learn are.
System architecture
As product managers, we often work closely with architects but never fully understand what makes good architecture in web applications. You'll find out some of the most important principles and how you can consider and apply some of these principles in your product decision making and design strategy.
Git hub and version control
What's a pull request? What's a branching strategy? Why do you hear the engineering team talk about git hub? You'll find out as we delve into the world of git hub and get a deeper understanding of version control.
Live classes
All our programs include live classes taught by our program leads which give you the chance to ask questions, clarify problems and clearly understand the principles you're being taught throughout the program. If you miss a class, you can catch up online later in your dashboard.
Uniquely tailored for managers
Our programs are created by product managers and professionals who fully understand the pain and the passion of every day product management. Other educational materials rarely focus on the product management profession, typically choosing instead to teach engineers.
No certificates
We believe certificates are a little outdated so we don't place too much emphasis on them. Instead, we focus on creating the best learning materials to help you to acquire practical new skills and achieve outcomes for your product. Real outcomes in your day to day role that will make you a better product professional.
Focused on actions and outcomes
This isn't a program for product people who want to sit back and passively listen to content; this is about being actively engaged. We encourage our students to take specific steps and implement them into your daily routine so that you apply what you learn.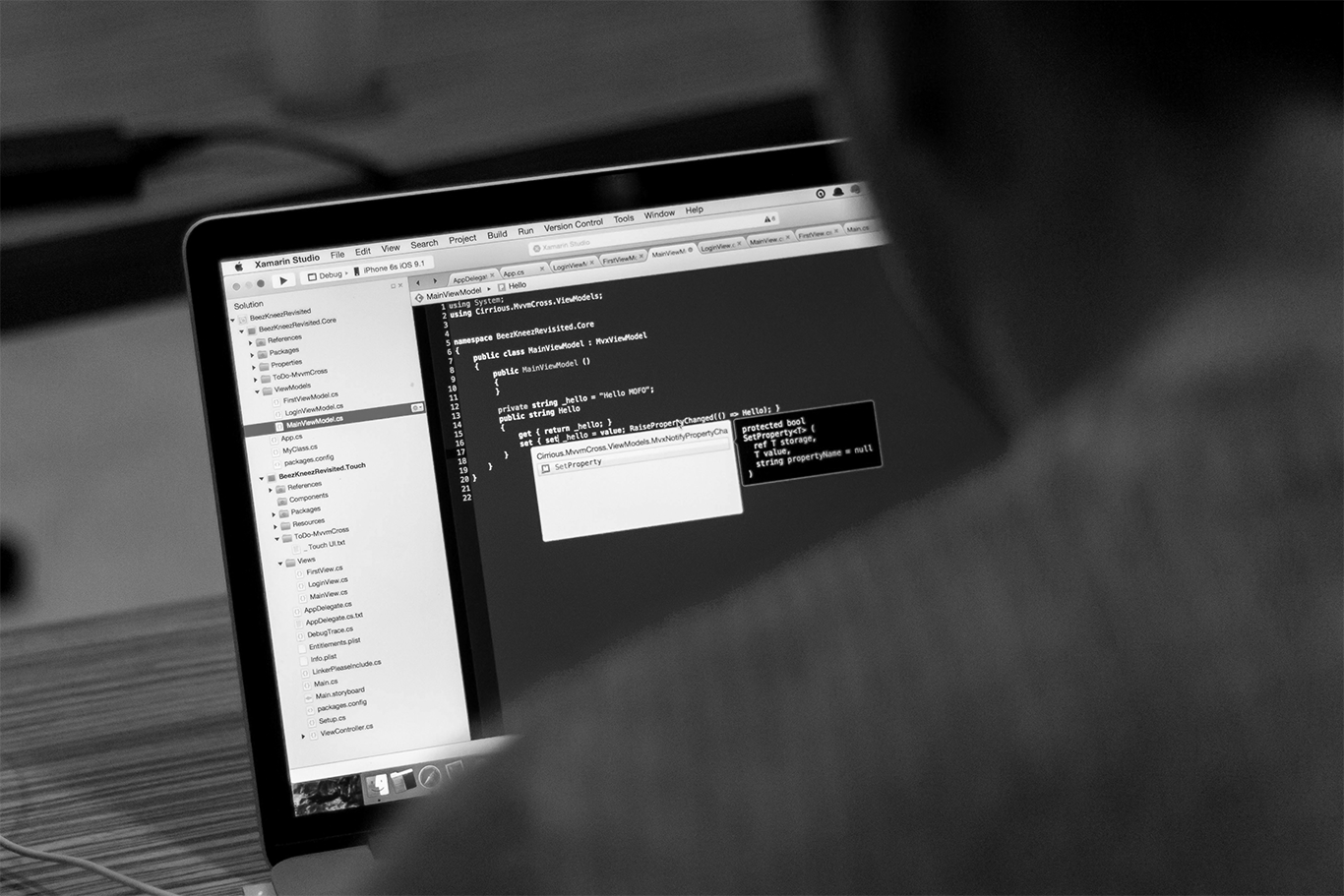 Program dates
Our 8 week online Web Technologies program is taught live by Department of Product program instructors.
23rd September - 20th November
This program is in progress. Future dates to be announced later this year.
Fees: $799 USD
Location: Live Online
Instructors: Richard Holmes and Jason Leonard
Program eligibility
Our community is proudly for product and technology professionals. To apply to take part in Department of Product programs you must meet the following requirements. All information submitted will be treated in confidence.
Eligibility
You are a product management or professional in full time employment, self-employed or working on a contract basis.
You have experience working as a product manager or professional that can be demonstrated through either a portfolio or a LinkedIn profile upon request.
You have a strong desire and commitment to learning new skills.
You are over the age of 18
You have access to a high speed internet connection which can be used to stream video
You have access to a location you are comfortable learning remotely from
Fees
$799 USD for 8 week online program
Includes full access to the program materials. No hidden extra costs.
Price includes:
Live tuition from our product leaders
Access to all learning materials
Lifetime access to the Department of Product resource library
Exclusive supporting material from industry leading product leaders
Unlike many other training programs, our instructors are not 'corporate trainers' or 'industry spokespeople' – they are real-world Senior Product Managers and technology professionals. With a blend of experience working for both larger organisations and smaller startups, you'll learn from this real, hands on experience of product management.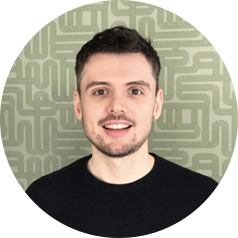 Richard is a Senior Product Management professional with over 10 years experience working for companies including eBay, Channel 4, lastminute.com and Macmillan Science and Education. Richard also has experience in early stage startups such as Shutl (acquired by eBay) and is the author of our blog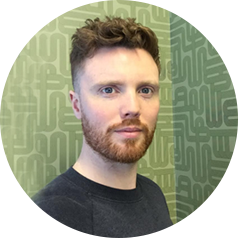 During his 10 years experience, Jason has led significant digital transformation projects across many globally recognised brands including The Guardian, Dice Holdings and Whitbread. Jason is also the co-founder of luxury ecommerce brand Handsome London.
Our program instructors have worked at the following companies:

Your private dashboard, with access to Department of Product lessons, exercises and hands on projects.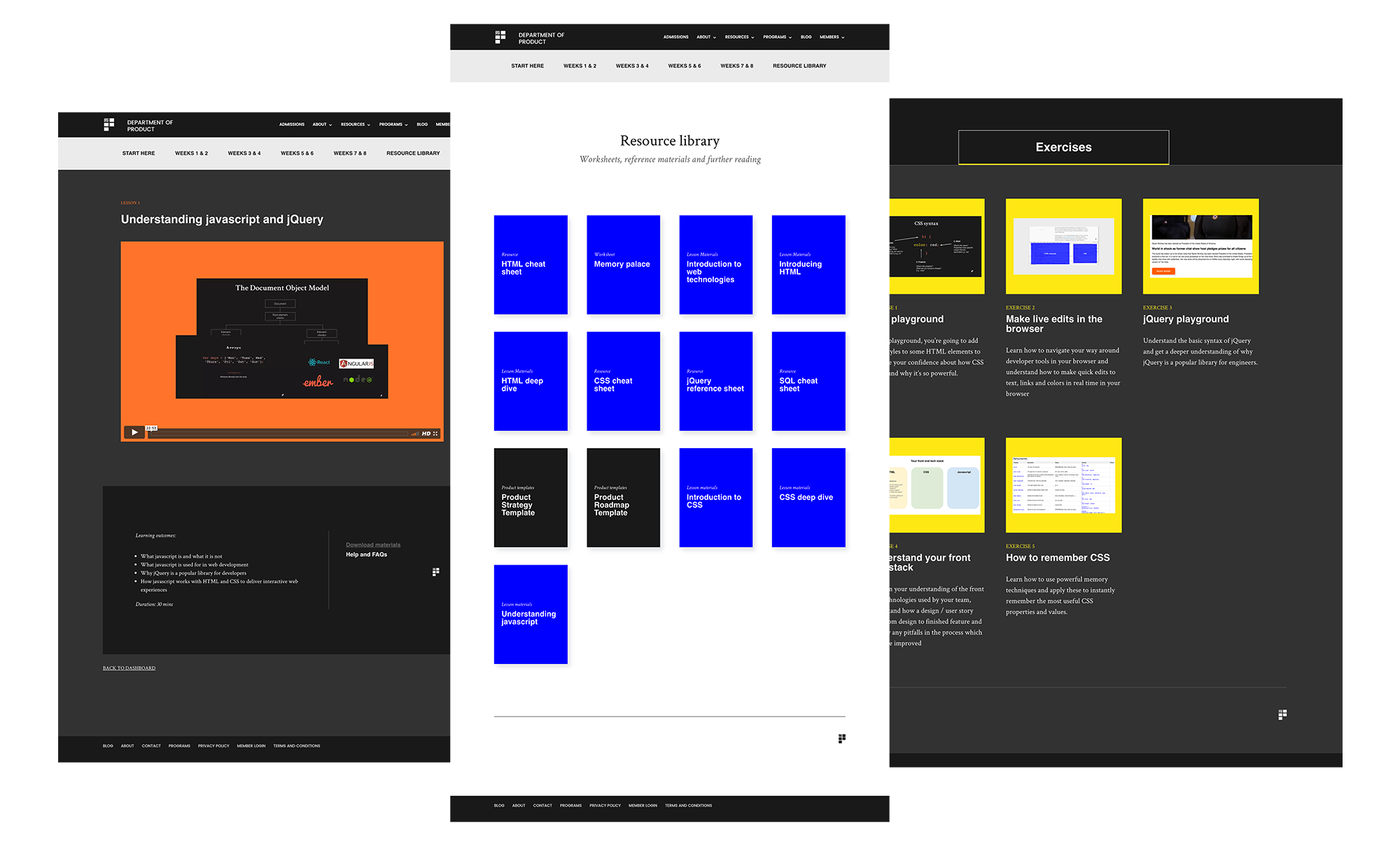 "I hadn't heard of the Department of Product before, but I was impressed by the quality of the free content so I decided to give it a try. The best part about the programs they offer is that they are uniquely tailored to the needs of product managers. Too many other courses focus on general technology skills and are often tailored towards engineers; the Department of Product is unique because it focuses on the product community and our unique needs within organisations."
"I wasn't sure if online learning was for me but I'm glad I took the chance to experience the Department of Product's learning methodologies. I now have a far deeper understanding of the web development process which helps me to have conversations with my engineering teams and understand the trade offs involved in product decision making."
How do we compare with the others?
MOOCs
We're a big fan of MOOCs (massive open online courses) and there's no doubt they are noble in their goal. However, MOOCs are overwhelming and highly unstructured, which often leads to information overload and a sense of not knowing what to do next. MOOCs can provide foundational knowledge but they are not tailored to your specific needs. We take specific topics and focus exclusively on these in the context of product management.
Cost: FREE
1 day seminars
The downside of these is in the title – '1 day'. You sit down in a room for 1 day, you spend a few hours in the morning engaged, then you look forward to lunch, you eat lunch, you experience a post-lunch lull and then look forward to going home. Rarely does the information stick in your brain, you tick an attendance box, your boss is happy, your company's happy and you never refer to the materials again.
Cost: $600 – $1500 / day
Conferences
The most expensive way to spend a day. 90% of us never speak to other people, we stick to the people we know and sit quietly watching and observing a few talks. Some are awesome, some are inspiring but few ever enter your daily work life. How effective are conferences at teaching you new skills? Not very. Yet we spend thousands on them every year.
Cost: $2000 – $5000+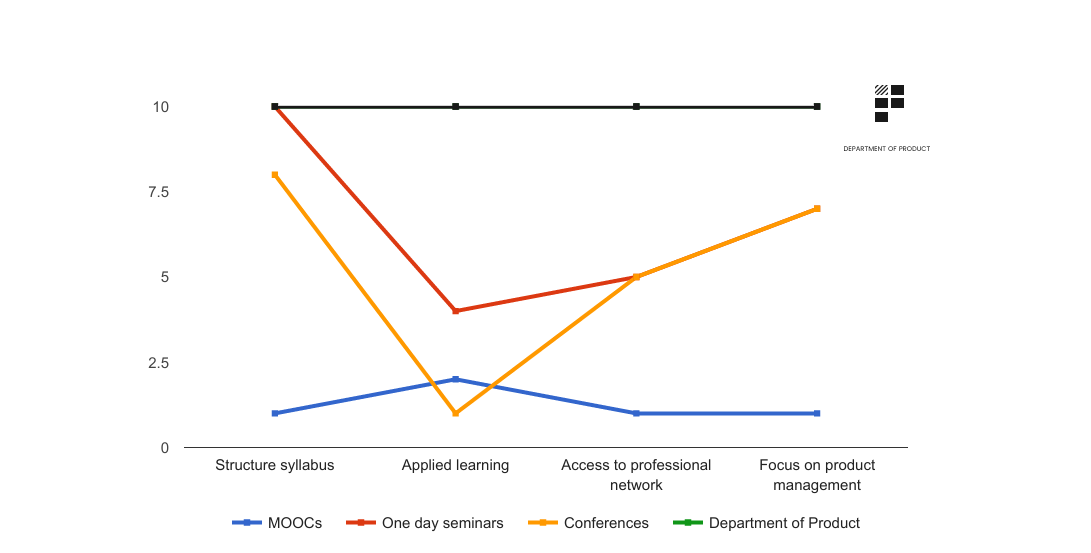 We're different. Here's why.
1. We focus exclusively on the needs of product managers
Our programs are created by product managers, for product managers and we understand the day to day challenges of being a product manager today. Too often, course materials are written by product gurus or 'consultants' who have no real experience in product management. If you don't understand that the life of a product manager is typically filled with tonnes of inbound requests from stakeholders, bug fixes, questions from the engineering team and pressure from your boss, you're never going to fully understand what it means to be a product person. We do, and we build our content with this real experience in mind.
2. We eliminate unnecessary information
Our programs are focused on the most commonly used parts of the topics we teach. Using the 80/20 principle, a technique used by some of the world's leading experts across various fields, we eliminate unnecessary information and instead focus on the most important pieces that you need to learn as a product manager.
3. We emphasise real world application
Our programs are split into 2 key stages: the first is for knowledge acquisition and the second is knowledge application. We encourage our students to apply the knowledge they have gained in real, day to day interactions with their teams. You'll be expected to apply your knowledge and improve your skills as a product manager.
Our focus on high quality, original content and our ability to distill technical concepts into easy to understand formats continues to impress the global product community.
Frequently asked questions
What can I expect to accomplish by the end of this program?
By the end of this program you will:
Be able to build basic web pages using HTML, CSS and jQuery
Understand the full stack, including your own product's technology stack
Have working knowledge of GitHub
Have a deeper understanding of APIs; what they are, how they work and why they are important to your business
Be able to structure your own SQL queries to pull data from databases
Have an understanding of the differences between TDD, BDD and automation testing tools
Feel more confident speaking to both your engineering team and business stakeholders
Learn how to distill complex technologies into easily digestible smaller chunks and retrieve the information for access later
How much does it cost?
$799 USD for our online 8 week program. This includes access to all learning materials, lifetime access to the Department of Product resource library and exclusive supporting material from industry leading product leaders.
Do I need to attend a physical school to study this program?
No, this program is designed for remote learning from any location. You can learn from any device in any location. Our content is designed for product managers and we're a global company.
Do I need any prior working knowledge?
We would expect you to be a product manager or business professional working in the technology industry. This program is designed for product managers who want to learn about the fundamentals involved in the web development process. We wouldn't expect you to have any prior coding knowledge or skills. If you do and you'd like a refresh, that's great. If not, don't worry.
How will I learn the skills outlined in the program?
Our programs are taught by product managers. Our approach is to teach concepts through tangible real examples. You will then be guided on how to implement these into your role as a product manager. This isn't a program where you sit back, watch a few videos and get a certificate at the end. We don't provide you with certificates; instead we encourage you to apply the principles learned to your role through real world applications.
Will I be an engineer after this?
No. You'll be knowledgeable about different coding languages, you'll know how to write basic programs and web pages and you'll have a deeper understanding of the principles behind web development, but you will by no means be an engineer. This is not for product managers who want to transition from product management into engineering.
I've tried learning online before. What's different about this?
This is not just a series of videos and a few worksheets. Our programs are taught live by real product managers. We mix rich materials with an emphasis on real world application and recall so that the skills we teach are learned and applied by our students.
What if I'm new to the area of product management?
No worries. This program is designed for product managers of all levels. The skills we teach are just as applicable to someone with 1 year's experience as someone who has been in the industry for 10 years +.
Do I need to be a product manager?
We would expect you to be a product manager, IT project manager or business professional working in the technology industry. This program is designed for product managers who want to learn about the technology fundamentals involved in the web development process. We wouldn't expect you to have any prior coding knowledge or skills. If you do and you'd like a refresh, that's great. If not, don't worry.
Do I need technical skills?
No. You're not expected to know how to code. If you do, great. But this program is designed to teach you about web technologies and the end to end development process, not how to become an engineer.
I've not heard of the Department of Product before. Are you a scam?
We are a new company, born out of a need and desires for better skills and training for product managers. Our courses are focused around the needs of product managers and we've worked closely with product managers from various organisations to ensure that we meet your needs effectively. Try a sample of our content by downloading a syllabus or free resources.
I'm not a Product Manager. Can I still do this program?
Whilst our content is tailored to product managers, if you're a business professional who wants to learn more about the product development process, our programs will still be suitable for you. Some of our students are senior professionals who find the ever changing digital world overwhelming and want some guidance to help them make better strategic decisions.