Review: Lyst Mobile App Refresh
The problem Lyst solves is the disjointed experience of a fashion consumer trying to find exactly what they're looking for.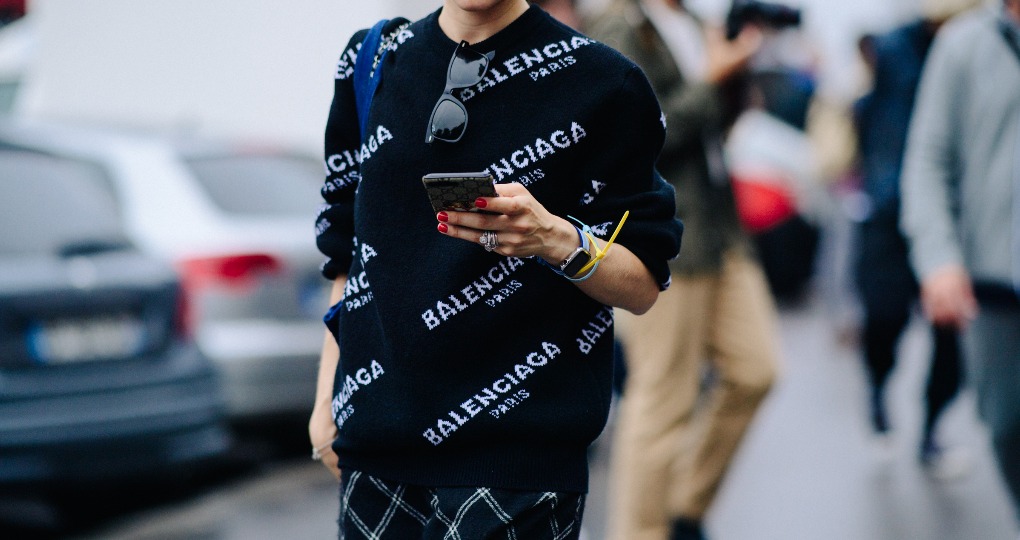 LONDON, United Kingdom – With over $60m in funding since its inception in 2010, Lyst CEO Chris Morton proudly announced earlier this year that the company had reached operating profitability. It's growth has been rather impressive and as it continues to reach new heights, Lyst's product team recently announced that they had relaunched the mobile app.
The Lyst value proposition
Lyst is an aggregator of fashion stores which allow you to search for all of your favourite fashion brands in 1 place. The problem Lyst solves is the disjointed experience of a consumer trying to find exactly what they're looking for.
Lyst boasts over 4 million searchable products, making it the largest inventory in luxury and contemporary brands in the world. Lyst doesn't store any inventory and instead works using an affiliate model, making a commission from each sale. This is understandably an attractive proposition for investors and a key pillar of differentiation vs. its competitors.
Another fundamental differentiator, according to CEO Chris Morton, is that Lyst targets customers who know what they want. How is that different? Well, whereas Net a Porter's customers are looking to get inspired, Lyst targets customers who know what they want but don't know exactly where to find it. They may have seen an item of clothing on a TV show or whilst out shopping with their friends and they want to track it down. That's where Lyst steps in.
A new design from the ground up
'We've redesigned our app from the ground up to really focus on helping you find the fashion you love. We've put search and recommendations at the centre of your app, made it easier to get your account details and made sure to bring that full screen goodness to the sparkly new iPhone X', says the Lyst Product Team.
How does the new mobile app fare? Let's find out.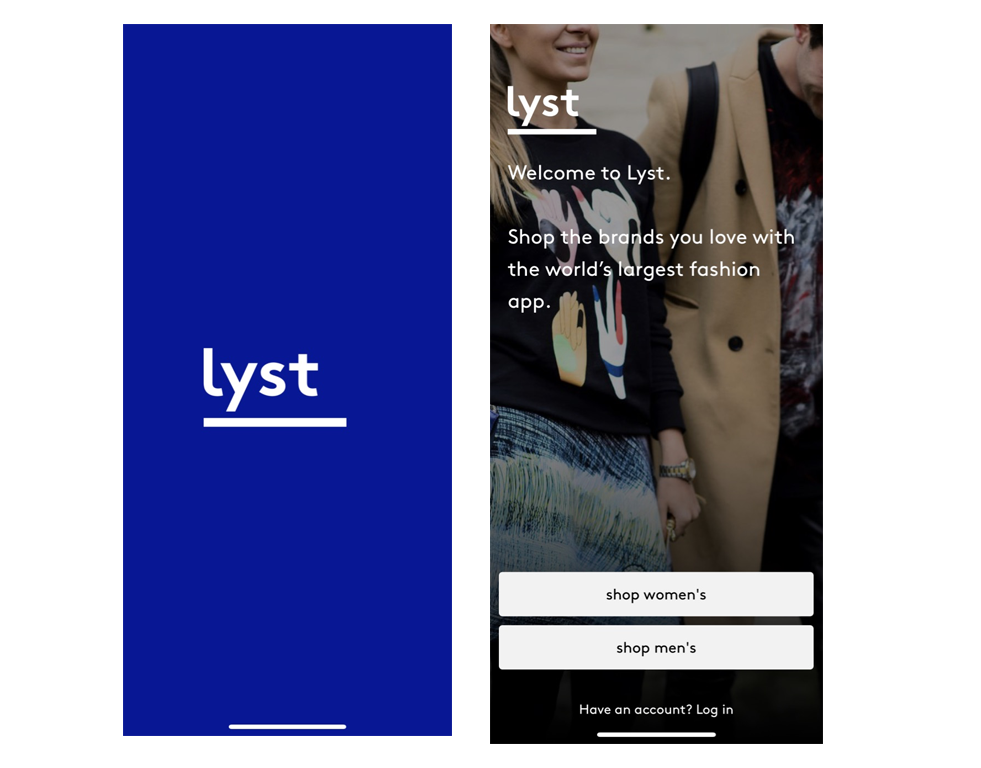 First impressions
One thing you'll notice if you're an iPhone X user is that the new Lyst app has been optimised for the almost full screen of the iPhone's new OLED display. It looks delightful – and Lyst's new color scheme gives it a modernising coat of paint which sees it ditch the often overused Cyan blues for a darker, deeper tone which immediately feels high end.
The welcome screen has a neat animation using the bold new shade of blue, followed by a prompt to select your shopping experience for men or women. All things considered, first impressions are good.
Onboarding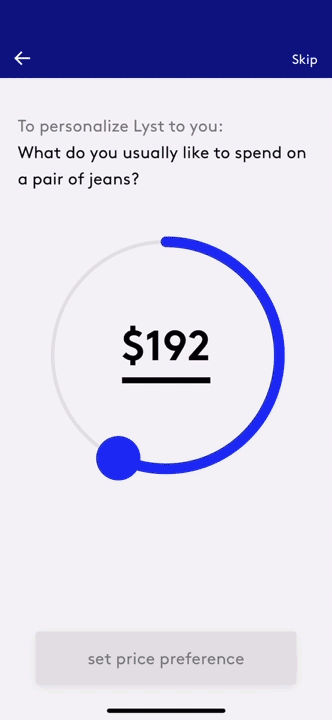 The onboarding experience was pleasantly straightforward – more so than most apps in fact. The app asks you how much you're willing to spend on a pair of jeans which is then used to calculate your budget. A simple but elegant way to gauge someone's price sensitivity.
After setting your price, it suggests you set up an account but registration is not required. I skipped the registration process entirely and was able to navigate freely throughout the app without too much hassle. This felt good – and actually made me feel as though I wanted to create an account after all, since I didn't feel like I was being forced into it. Once setup is complete, the app refers to account creation as 'Complete my account' – a smart way to drive registrations using a well known UX principle that users are more likely to want to complete an action they have already started.
Usability
The app gets you to what you want as quickly as you'd like to. That is, it allows you to browse clothes in just a few clicks. Yes, you're prompted to register but the fact that this isn't mandatory demonstrates prioritising user needs over business needs.
Overall, it's clear that the product team have prioritised search and recommendations above all else, which aligns with Lyst's strategy. The focus means search is the star of the show here, and the lack of clutter helps to demonstrate this further. It's often a rare thing for product teams to avoid cluttering apps to death with nonsense from every stakeholder request so the discipline on show here should be applauded. That said, the refreshed app isn't without it's faults.
The good
If search is the focus here, then search works well. It's lightning fast, relevant and perhaps most importantly – filterable. The filters on offer include price color, sizes and 'sale items only' for users who love a bargain. Having this amount of control over what you're searching for is no more than what you'd expect (perhaps with the exception of sale items) but the overall zippy performance make it a fluid experience.
Personalisation – when you like an item or save it for later, Lyst sends you personalised emails immediately afterwards. It feels a little scary, but it nonetheless nudges you towards your goals of buying those shoes you wanted.
Minimal Navigation – the stripped back navigational elements (there are only 3) get you immediately to brands and clothing and remove unnecessary clutter from the overall experience. If you need to go deeper by applying filters or searching for specific brands you can do, but none of this needs additional navigation.
The Buy Now button now has a little popup icon which makes it clear that you'll be leaving the site to complete your purchase. Scroll throughout a product you like and the buy now button transforms into a standalone, sticky popup icon. Previous attempts to somehow pretend that Lyst owns the entire experience didn't work; perhaps it's better to embrace the fact that it's an affiliate model and be up front with the users about this. It appears that this is the choice that the team have made here and given the restrictions with Lyst's business model it's a sensible one.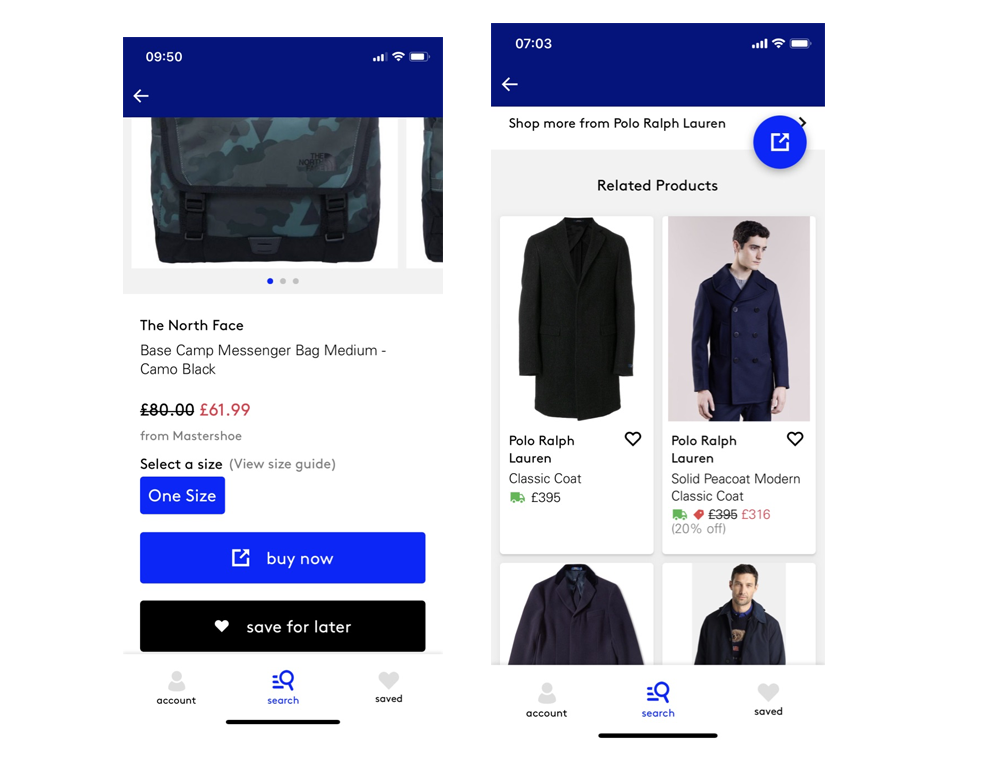 The bad
For some reason, when we first opened the app we couldn't find the follow button when searching and scrolling throughout brands. We stumbled upon a few items we liked and happily saved these to our list but were stumped when we wanted to follow a brand. It turns out it's sat pretty at the top of the brand page but disappears as you scroll down the page. Given the importance of following brands and the lack of contrast between the follow button and its container this might need a rethink.
Semantics confusion
We were also confused about the difference between 'designers' and 'stores'. Why is ASOS a designer but Paul Smith a store? Surely it should be the other way around? Either way, the separation of designers and stores feels like a needless dichotomy which could instead be dealt with under 1 concept of 'brands' where users simply follow brands they like.
The categorisation is simple (shoes, bags, clothings, accessories etc). But we'd like to see more creativity here. Often, you're on the lookout for an outfit for an occasion and not just single items. It would be helpful to see purpose-based categories such as 'office essentials', 'weekend brunch', 'weddings' which give you outfits suggestions for these categories rather than leaving you to do the heavy lifting of piecing items together yourself. It may be that the affiliate model prevents this since you'd need to be redirected to multiple different sites for a complete outfit (unless the outfit is entirely from 1 brand). That would be messy.
Third party checkout headaches
Speaking of messy, there's no getting away from the headache that is the third party checkout. Whilst we agree that being upfront about this to users in the UX decisions is probably the best way to handle the model, the third party checkout still disrupts the overall experience. It can be unsettling to feel safe within the confines of Lyst's sleek app, only to be taken to some badly designed checkout on a third party to complete your purchase.
Score: 8/10
Lyst continues to get the basics right and avoids the ever-present temptation of cluttering the app with feature overload. The decision to focus on and prioritise search and recommendations is wise. Whilst we were a little confused about how to follow new brands and frustrated at the infamous 3rd party checkout model, broadly, it gets most things right. With speedy search and relevant recommendations, this new mobile app cements Lyst as a sleek fashion experience for fashion lovers who know what it is they want but aren't always sure where to find it.
Lyst is available on iOS and Android now


The best product insights delivered to your inbox. Weekly.
Sign up for the Product Insider's Briefing. A weekly curated reading list of the best product news, commentary and insights.